This past festive period I had the privilege of experiencing a very special winter adventure. I returned to Russia and indeed to what may be viewed as the heart of Russia: Siberia. I decided to take a leap of faith and volunteer for Cosmopolitan School who are based in the capital of Siberia, Novosibirsk. I had no word of mouth recommendation for Cosmopolitan School or the winter camp but decided to trust my sense of adventure and fulfillment. My gamble was to turn up trumps.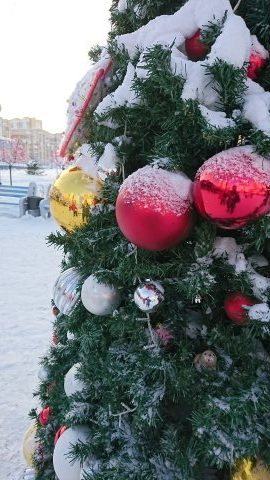 Being a Scotsman I am accustomed to spending the New Year holiday in fine fettle in Scotland. The Hogmanay tradition is one that will always be in my bones. It would take something special to draw me away from a Hogmanay spent in Bonnie Scotland. My constant craving for adventure and discovery coaxed my compass bearing East in search of a newfangled  New Year experience. This New Year just passed I had the opportunity to sample just what the festival entails for Russian households across the vast land.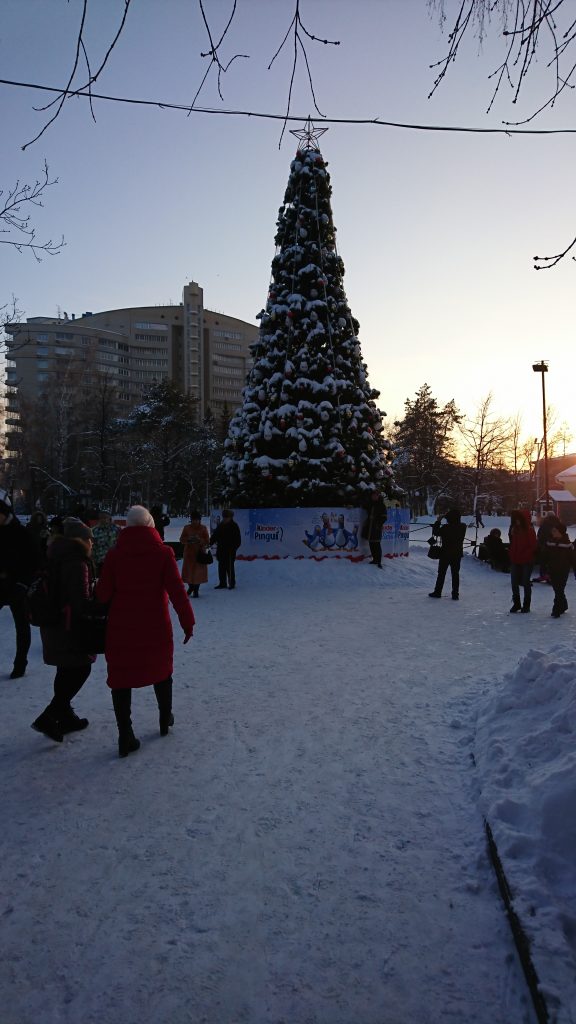 I would like to thank my hosts for giving me a very warm welcome and a great first New Year experience in Russia. I had the opportunity to meet Дед Мороз (Russian Father Christmas) and his granddaughter Снегурочка (Snegurochka). They are very generous at this time of year and deliver presents to kids and 'big kids' who should earn their rewards, for example, by performing a song. The President addressed the nation just before the old year gave up its mantle to the incoming heir. Fireworks frolicked in the skies all around as a nation celebrated new chapters of real life about to unfold from families in Vladivostok to friends in Murmansk.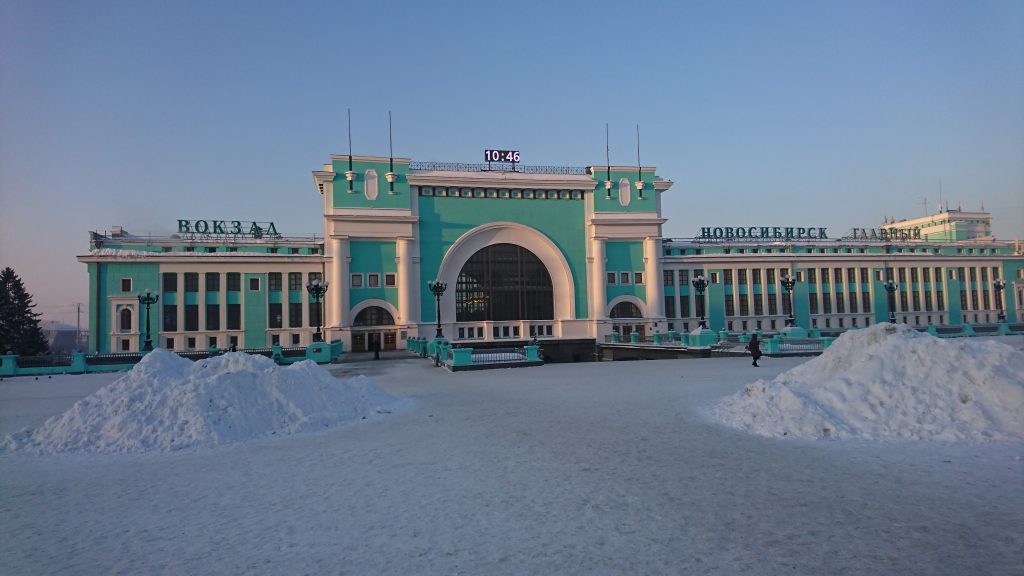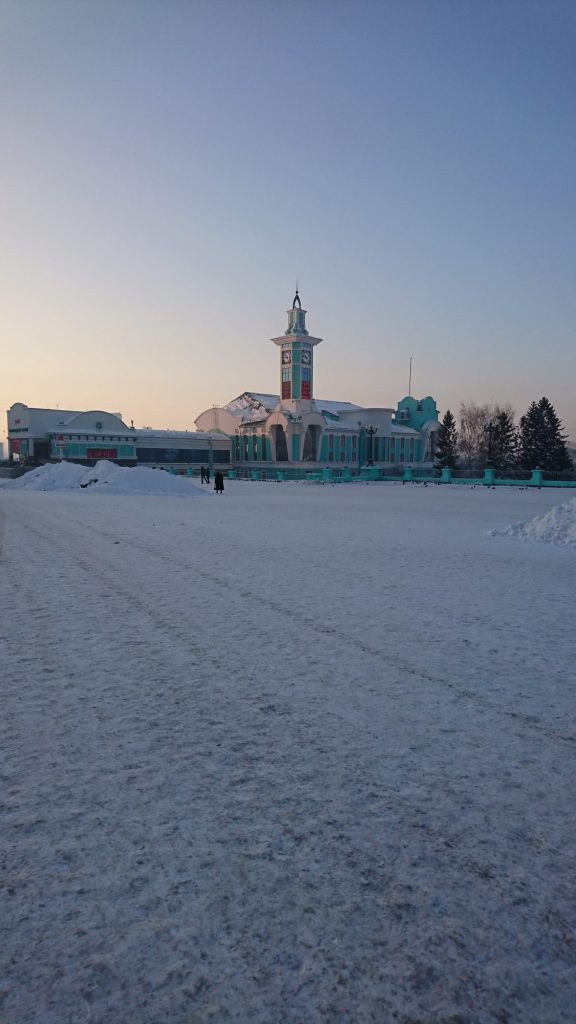 A  few days later I arrived at the meeting point for everyone taking part in the Cosmopolitan School Winter Camp: the magnificent Novosibirsk railway station. The building is very striking being one of the largest stations in Russia and having a resplendent turquoise hue. Such a hue cannot fail to be uplifting even in the depths of the coldness chasm that is the Siberian winter. During my visit sub-zero temperatures varied quite widely but would go as low as the -30s (Celsius) with a real feel as cold as -46 degrees Celsius on occasion.
All the participants congregated and we caught a bus out to the winter camp. The journey was not long as the camp is in the countryside nearby Novosibirsk (Berdsk). Spirits were high at the start of what would turn out to be a wonderful ten days together.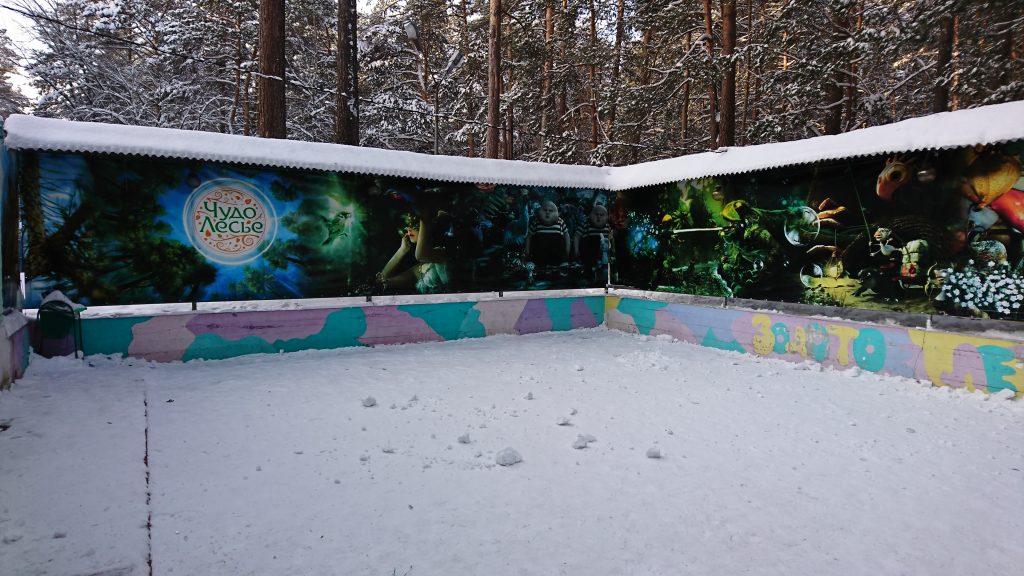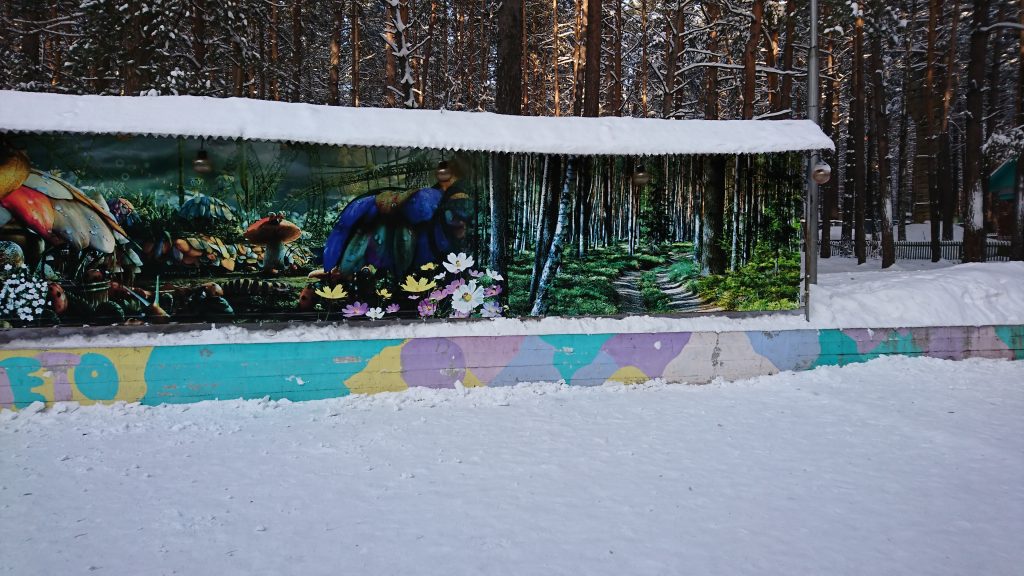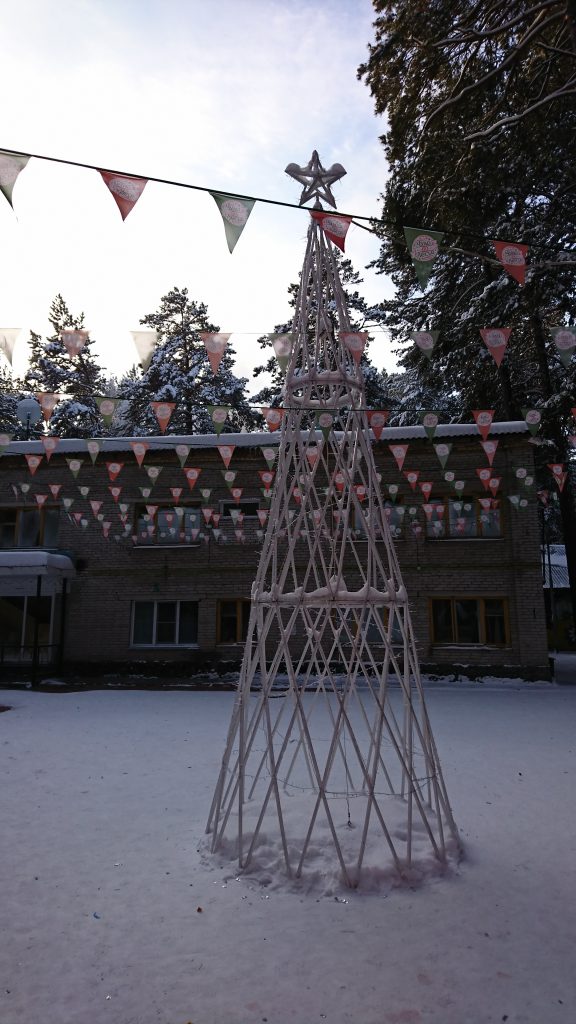 We arrived at camp eager to setup and get going. Accommodation was in small dorms with a female wing and a male wing. For some prospective volunteers you may be somewhat apprehensive about the Siberian winter. Fear not the Siberian cold for the living quarters at the camp were heated well around the clock and kept the Siberian winter bite at bay. It is, of course, necessary to have warm footwear and clothing from head to toe when walking outside but at the camp only short distances needed to be covered from one building to another.
There was a central hall with a stage at the camp in a building a few metres away from our accommodation block. This was used for a variety of performances most evenings during our stay including an opening ceremony with the national anthems of all visitors included, karaoke, a fashion show, a multi-group quiz and some discos.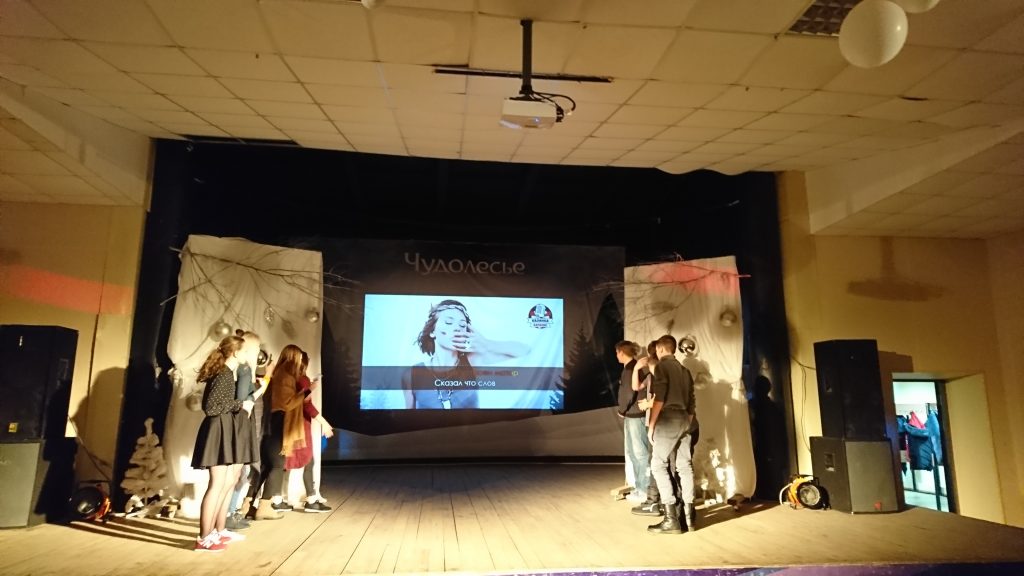 >>> If this article is helpful please like, comment below and share. <<<
Each day was action-packed from start to finish. Breakfast was served at 0930. All meals were held in a central canteen (stoloyova) for both students and teachers. The food was quite varied and certainly catered for the nutritional needs of the students. There was plenty food and drink to go around with breakfast, lunch, afternoon snack, dinner and evening snack included. Food preparation and washing-up was done by the onsite camp catering staff to whom I am grateful.
At the camp there were some other groups including a Taekwon-do group and another language learning group that we would see and interact with  from time to time. A daily feature of our camp was walking by a pink elephant ensconced proudly in the grounds of the camp. It was a very vibrant sculpture and helped keep spirits high.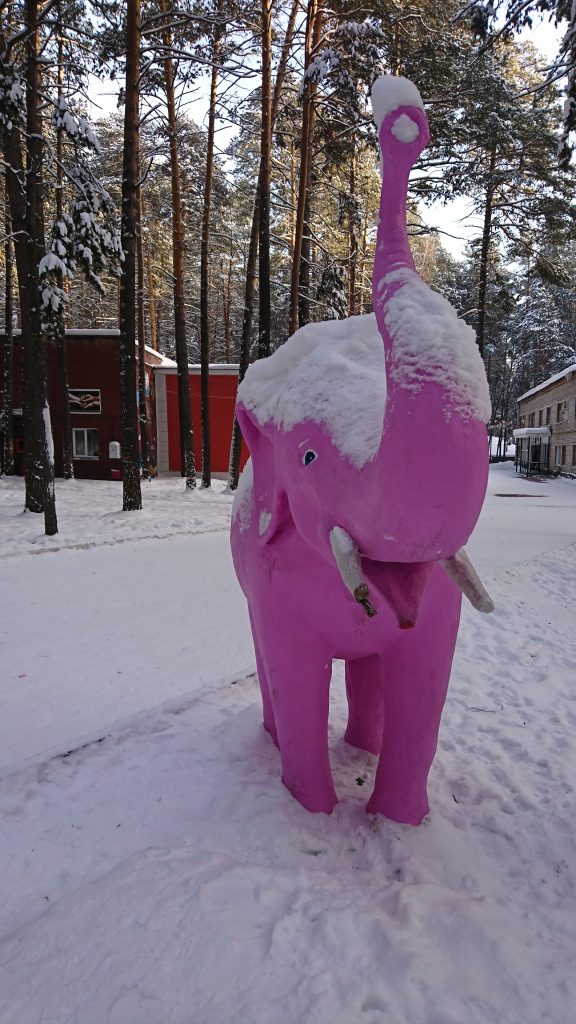 Classes began at 1000 prompt and each volunteer teacher taught students grouped together in proficiency levels. At this camp the English language proficiency levels ranged from Elementary to Upper Intermediate. Each volunteer teacher would teach an Elementary group, a Pre-Intermediate Group, an Intermediate Group and an Upper Intermediate group each day. The groups rotated amongst the teachers for 35 minute lessons with a 5 minute break in-between lessons. If a volunteer teacher was able to deliver a language lesson in a language other than English then the last class of the day that they taught was in that language. Other teachers could teach an additional English lesson for the remaining students.
The educational model used for Cosmopolitan School camps is a great blend of traditional learning coupled with creativity workshops to enhance engagement with the target language and exposure to the wider cultural context of it. This model is great for volunteers/teachers who possess an artistic/creative flair. It is really rewarding to see the students pour their hearts and souls into the creativity workshops and enjoy the learning journey. The creativity workshops can be on a wide variety of topics with some typical examples being drama performances and song recitals.
I chose to teach the students some Scottish folks songs and other popular English language songs. My trusty little travel guitar was to prove very useful once again. I was teamed up with Donnie, a volunteer teacher from the USA, to coach the students to deliver artistic performances of these songs. It was a great privilege to share some Scottish culture with all the camp participants and listen to Scottish songs being sung with a Siberian lilt.
I think that songs are a great vehicle for learning languages and I also used songs in some of the English lessons that I taught.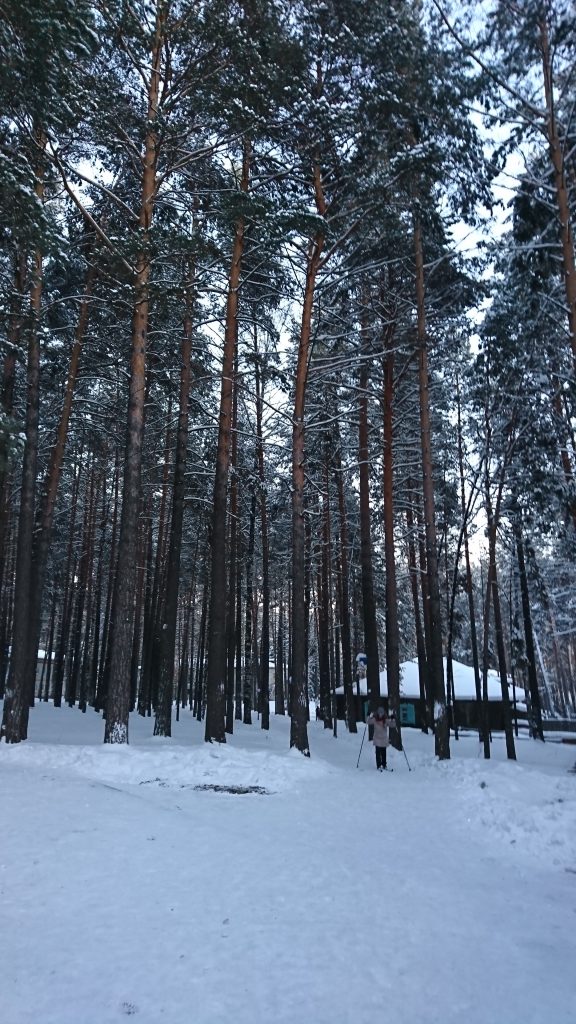 Outside of lessons and creativity workshops there were also opportunities to have snowball fights and have a go on Nordic skis around the grounds of the camp. The camp is situated in a forest and the feel with all the snow around is truly of a winter wonderland. Tall evergreen sentinels surrounded us as we played in the snow. These titans of the taiga provided a comforting canopy for us throughout our stay.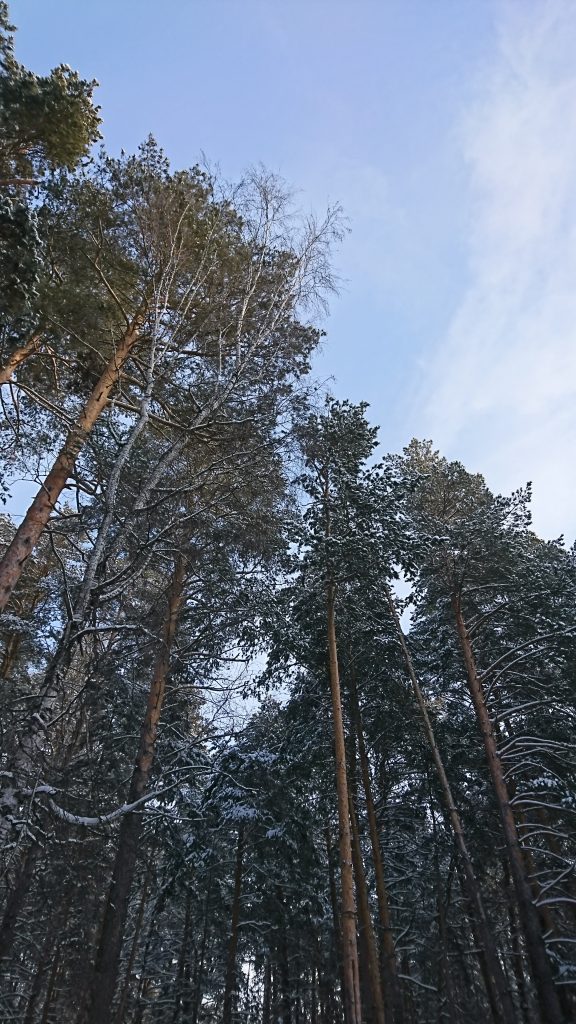 One day the volunteer teachers, accompanied by our Russian teacher Vika, were treated to a trip into the centre of Novosibirsk to see a ballet at the magnificent Opera and Ballet Theatre.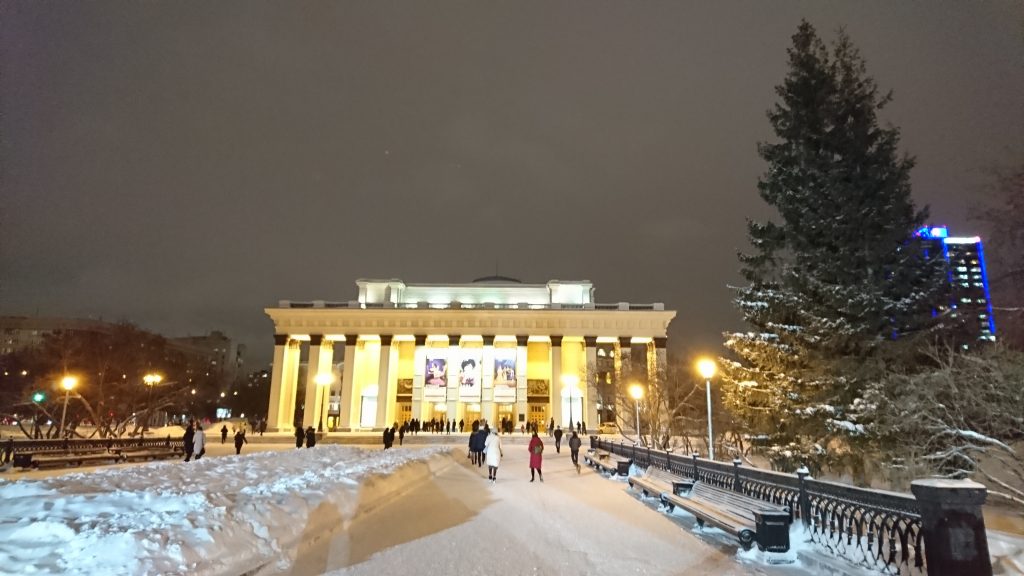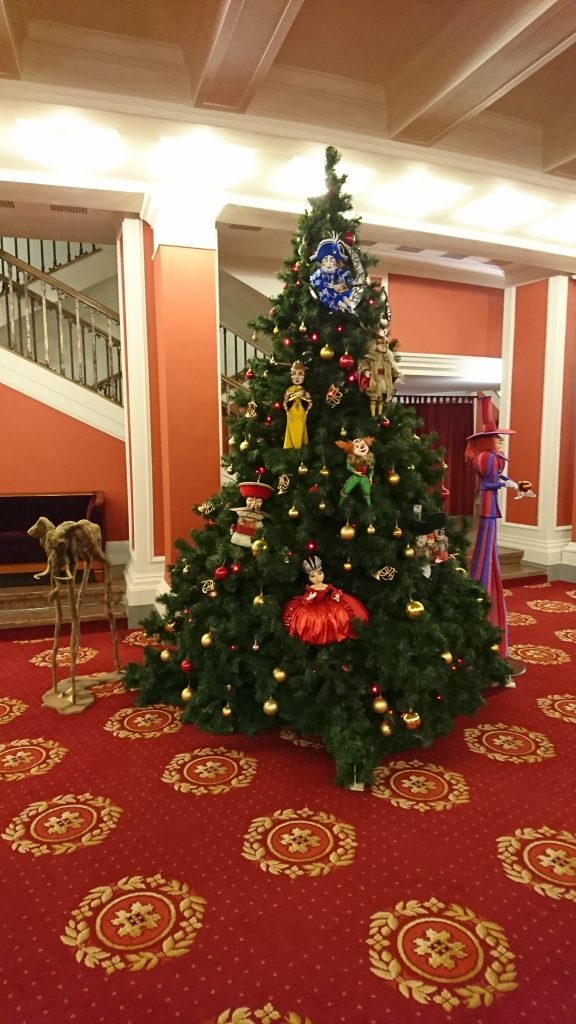 It was a splendid performance in a sumptuous theatre. The orchestra was great as were the ballet dancers, the choreography and the whole production. This was a very special experience for us and a lovely touch for Cosmopolitan School to organise for us – thank you very much.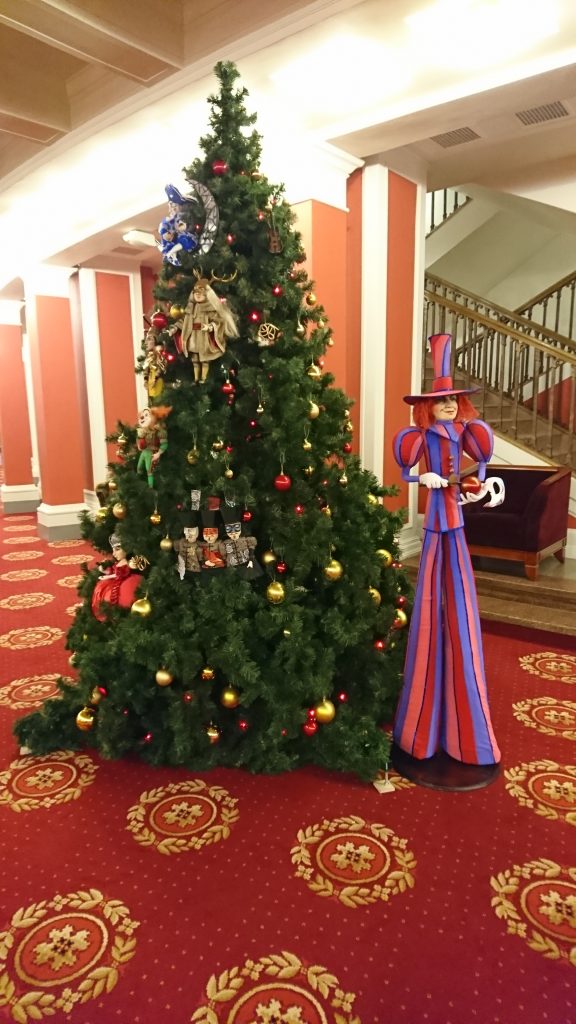 We had a chance to see some wonderful snow and ice sculptures whilst we were in the centre of Novosibirsk. Such sculptures are an endearing site in the cities of Siberia during winter. Indeed sculptors compete against each other to try and craft ever more intricate and appealing works of art.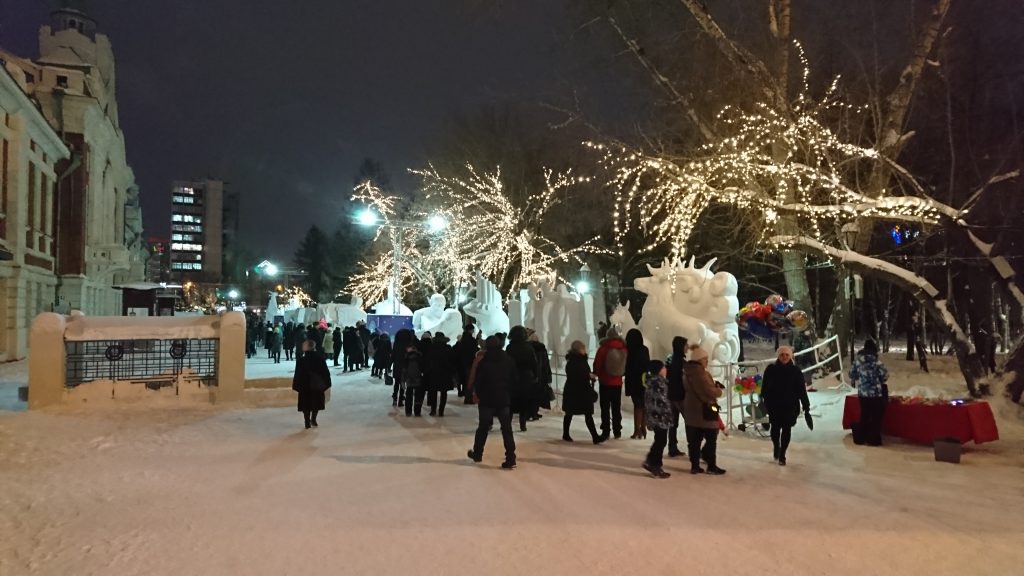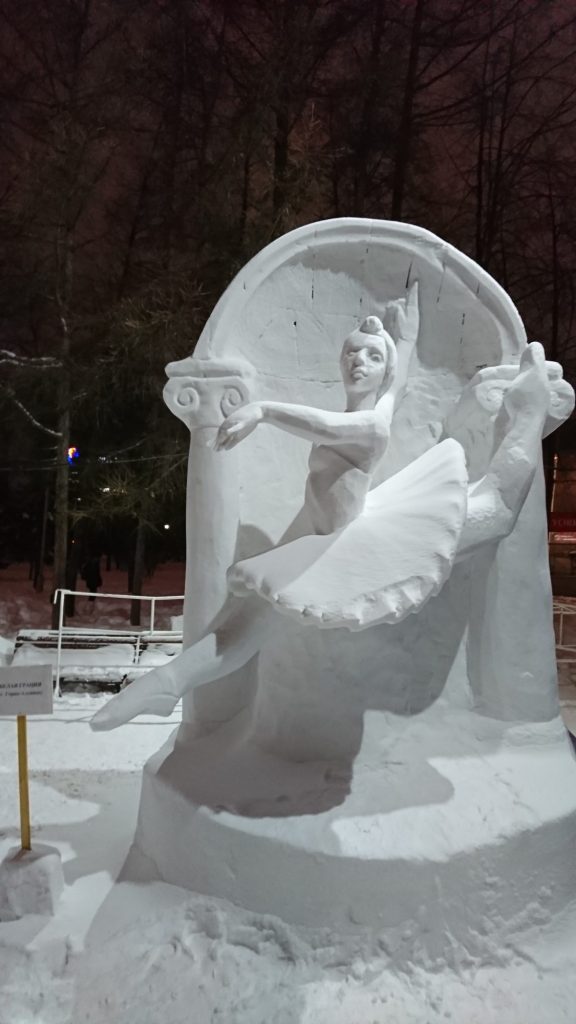 The students were a joy to teach and be around. Regardless of their existing level of English they were all keen to participate fully in all the language classes, creativity workshops and other camp activities. Furthermore, the students were very keen to spend time with the volunteer teachers outwith the lessons and workshops to practise their English and learn as much as they could all in a fun, very supportive environment.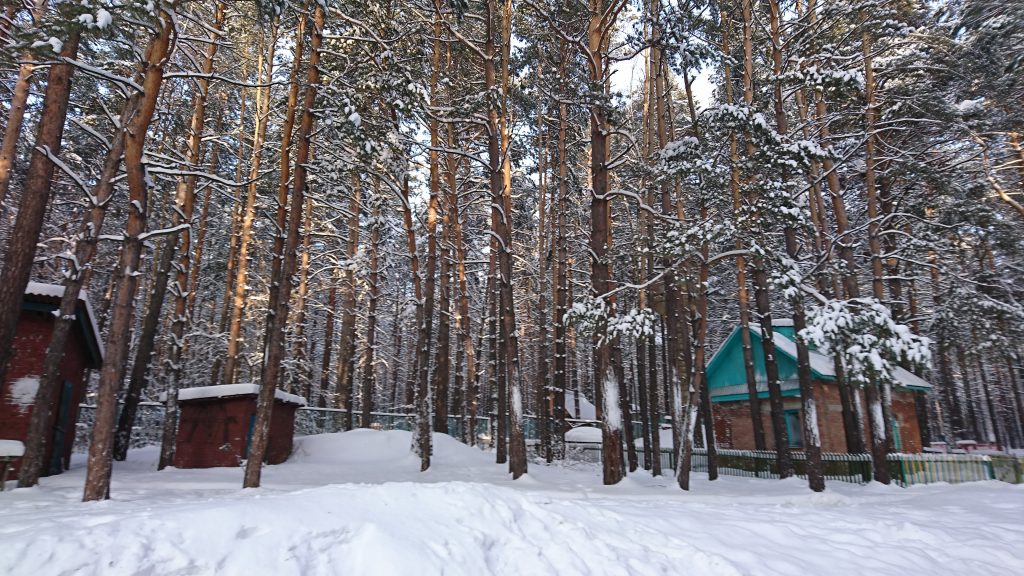 It was not necessary for volunteer teachers to be able to speak Russian as Russian classes were provided each afternoon and outwith these translation was available wherever necessary. However, Russian is such a wonderful language that underpins a wealth of culture and it is very rewarding to learn and use the language. Hence, the more Russian language knowledge that you possess arriving in Russia the more you can make of your experience.
It is best for volunteer teachers to prepare (English) language lessons and creativity workshops in advance of travelling to Siberia. However, there is ample opportunity to adapt them as necessary and Cosmopolitan School staff are on hand to review and help refine any of your plans.
On the last day of the camp the tables were turned and the students became teachers of Russian for the volunteer teachers. This was a great opportunity for the students to not only practise being teachers but also to share gems of Russian language with us such as famous poetry. We had a lot of fun also with writing exercises and tongue-twister challenges that the students posed us volunteer teachers.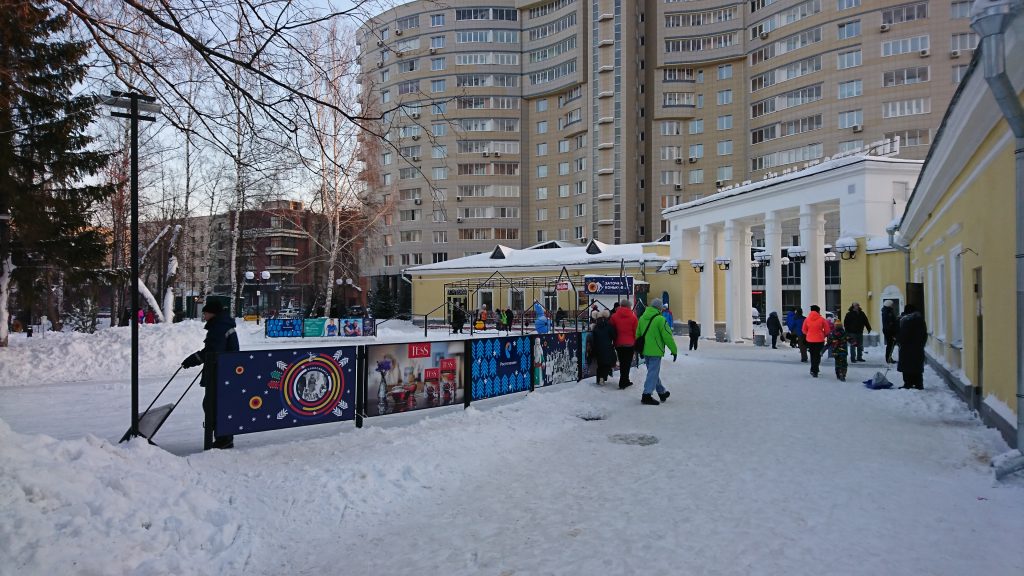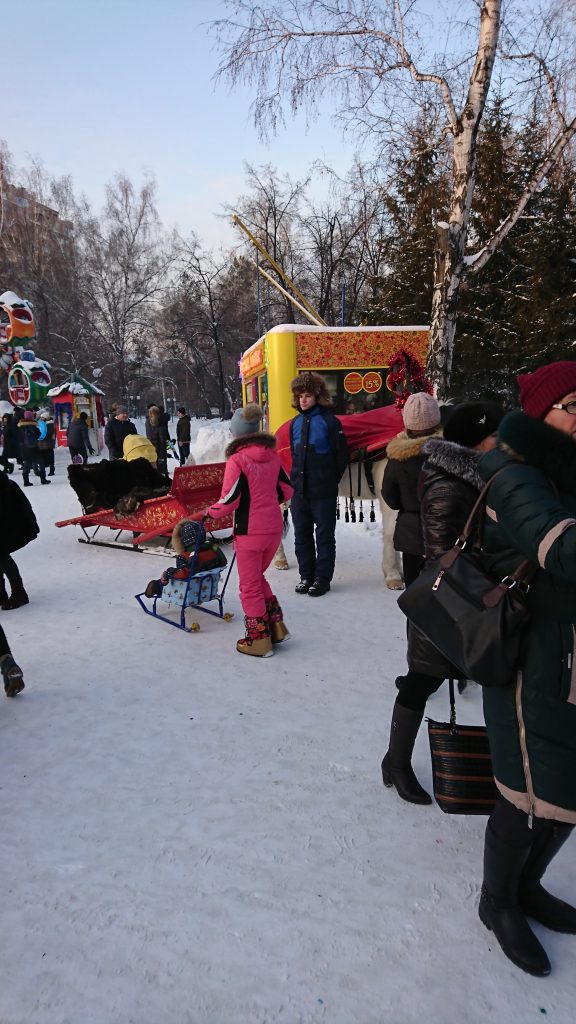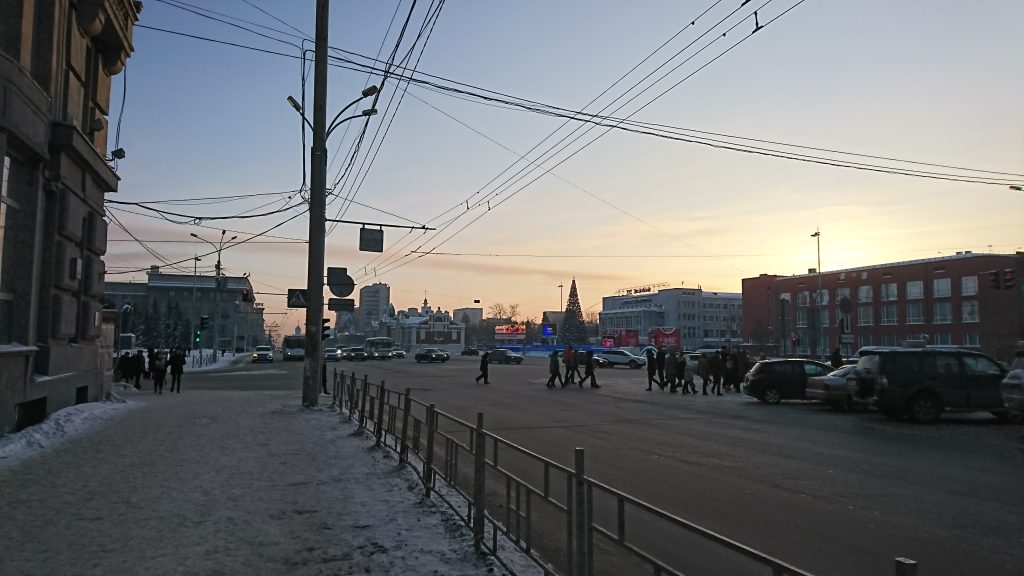 I chose to extend my stay beyond the camp dates and arrived a few days before. This gave me the chance to learn and practice Russian more whilst also affording me the opportunity to see some more of Novosibirsk. The city is easy to get around with a small inexpensive metro network being very handy. It is also perfectly possible to wander through the city streets and parks by foot. In winter the parks have a special sparkle about them.  Some of them have ice rinks available for city dwellers and visitors to burn off any excess calories and keep the winter blues at bay.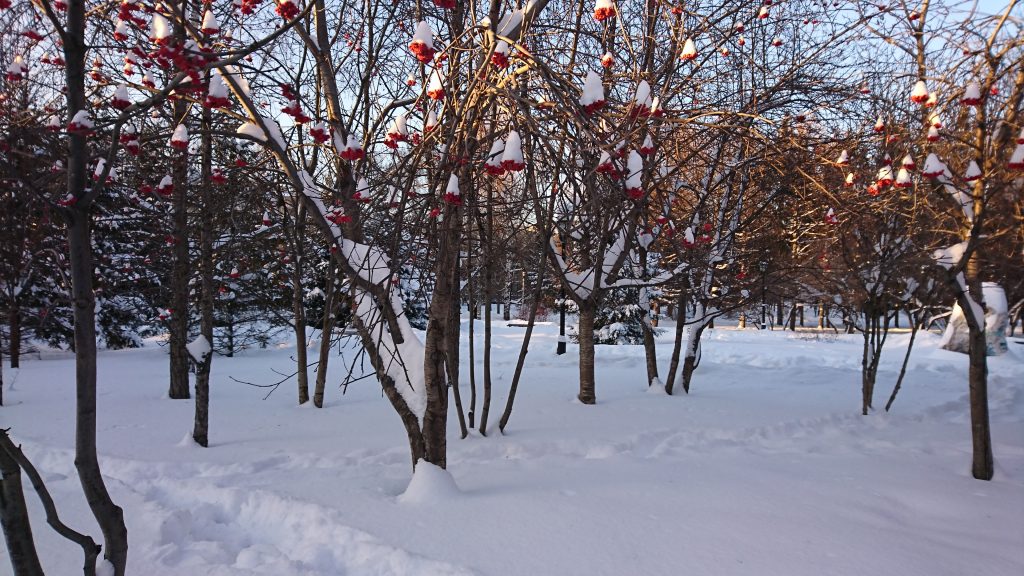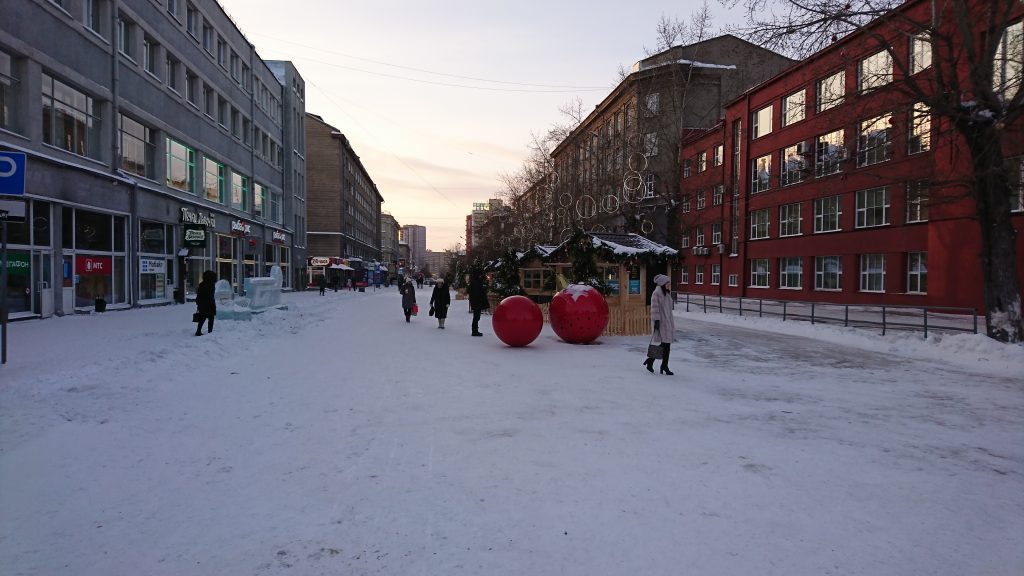 >> If this article is helpful please like, comment below and share. <<<
At the closing ceremony certificates were handed out and we were given special titles that epitomised our individual presence throughout the camp. I am honoured to have been given the moniker Mr. Golden Voice and to have received such a lovely certificate.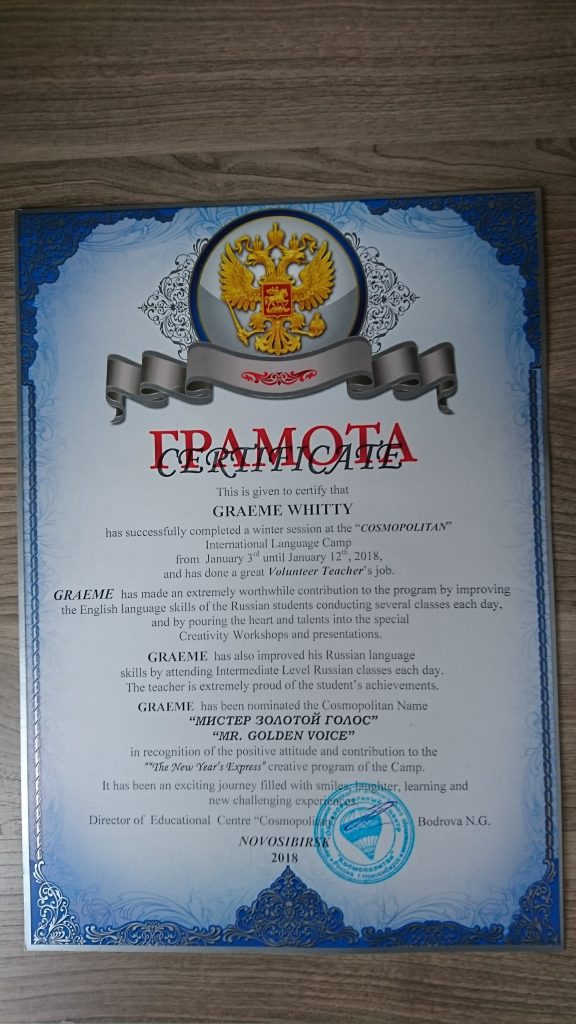 Many a tear was shed as the winter camp came to a close and it dawned upon us that we all had to go our separate ways. I hope, though, that any tears of sadness are now fossilised as tears of joy when any of the camp participants reflect on their experiences. I trust that I have played some small part in helping to educate and entertain students and colleagues who, as I write this, are situated many time zones away from me.
All in all the Cosmopolitan Winter Camp was a wonderful experience and I would highly recommend it to any volunteers seeking a hugely rewarding experience. Fortune favours the brave: don't think twice.
I would like to thank all the students for your wonderful energy and effort in all the lessons and camp activities. It was a pleasure to teach you. Your futures will be as bright as your smiles with your hard work rewarded in kind. Thank you to the volunteer teacher crew Allyson, Donnie, and James for your camaraderie too. Further thanks to Vika for engaging Russian lessons and other support. Thanks also to Bella and Sergei for all your efforts and support. Finally, I would like to say a very special thank you to the Director of Cosmopolitan School, Natalia Bodrova, family and friends for excellent organisation and fantastic hospitality and support during the trip.
For further advice and inside tips including kit list advice please get in touch. Please also see here for other volunteering opportunities in Siberia.