This autumn Nina the Nerpa had a great adventure whilst visiting her first ever bothy. She had heard about bothies in Scotland before but was still a little unsure as to what exactly they are and what a visit to a bothy would be like. Curioisity may have killed the cat but for a budding little nerpa explorer like Nina it is the fuel of exploration.
So, just what is a bothy? As Nina discovered, they are simple shelters in remote parts of Scotland for the benefit and enjoyment of all who cherish visiting remote places and sharing shelter for free. (You can find out more about bothies here.)
Being a nerpa, Nina loves water and was keen to visit the habitat of her distant cousins: sea lions. For her very first bothy adventure then Nina chose to visit a bothy on the coast. In fact, for her first bothy experience she chose one of the most beautifully poised bothies in the land: Peanmeanach, situated on the Ardnish peninsula in the Western Highlands.
Nina's voyage to this place involved passing through Glenfinnan, a truly stunning glen steeped in history and mystique. For this time though, a stop there was not on cards. Instead, Nina continued on West to the start of the path to Peanmeanach.
She set off on the path just as day met dusk and this was to be a truly memorable experience for little Nina. For she would see some outstanding natural beauty.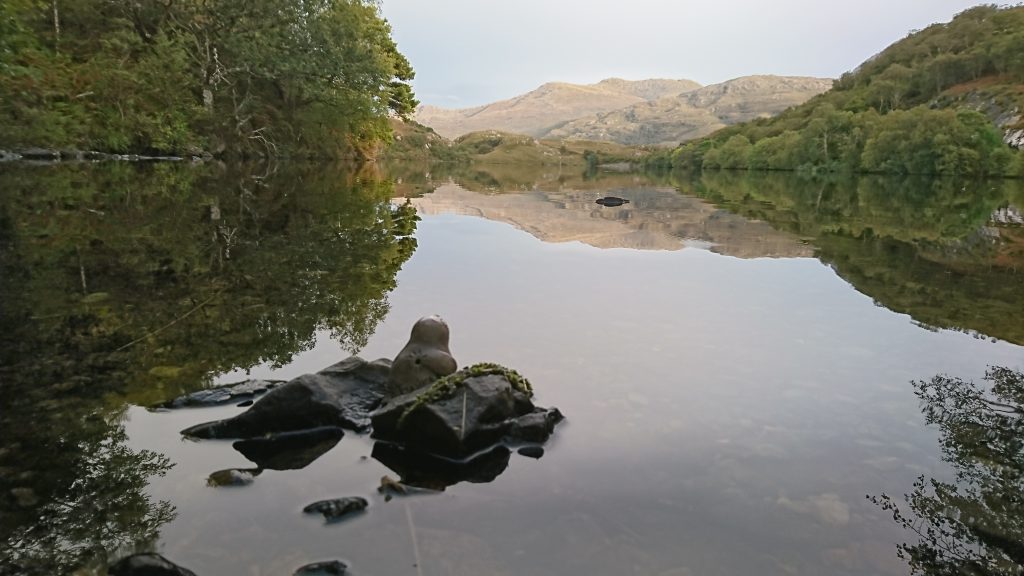 As she worked her way along the path Nina was treated to sublime views of the sun setting on the Small Isles. It was as if she was about to be transported to a nocturnal nirvana as other-worldly powers put on a spectacular show of natural beauty.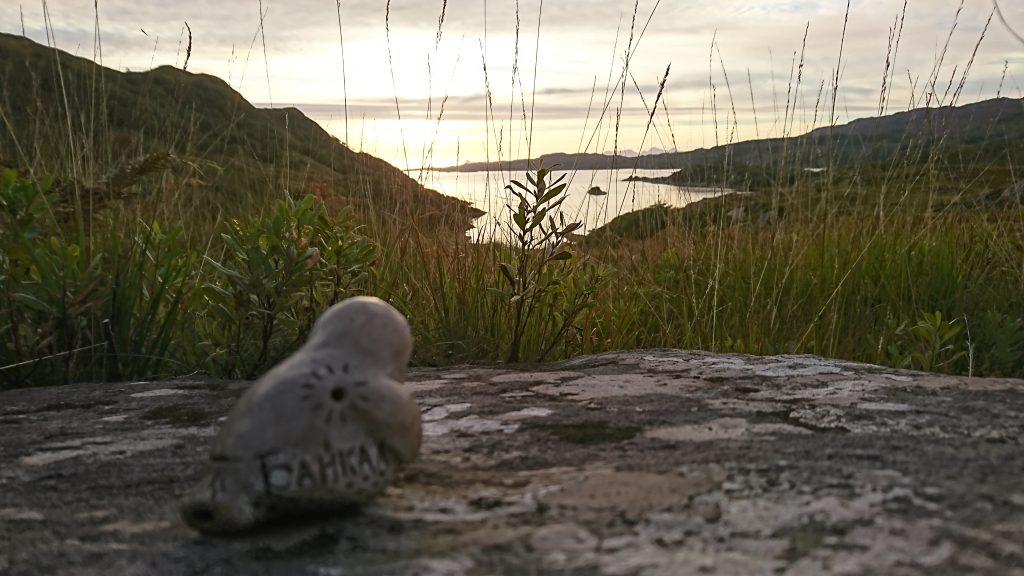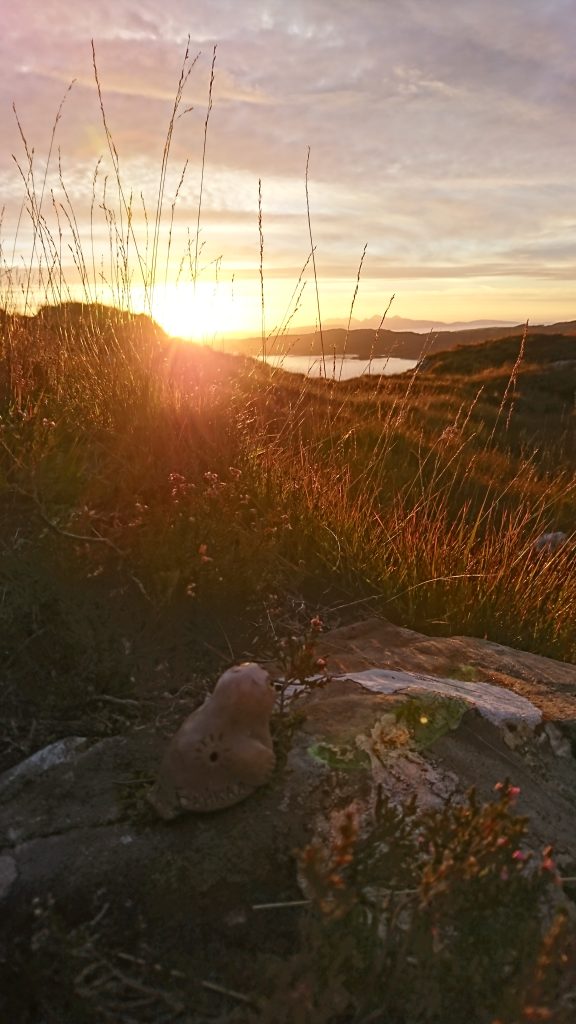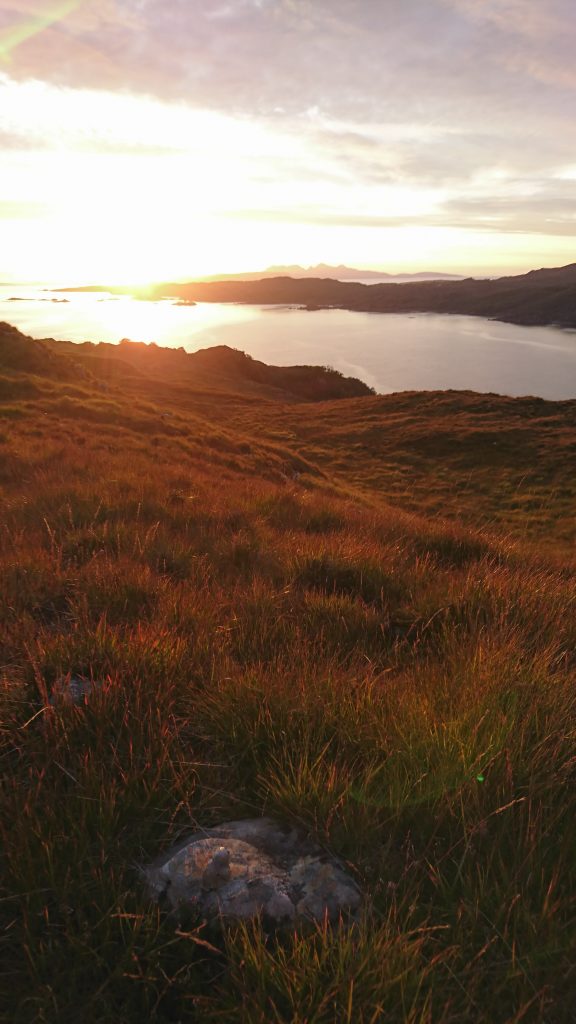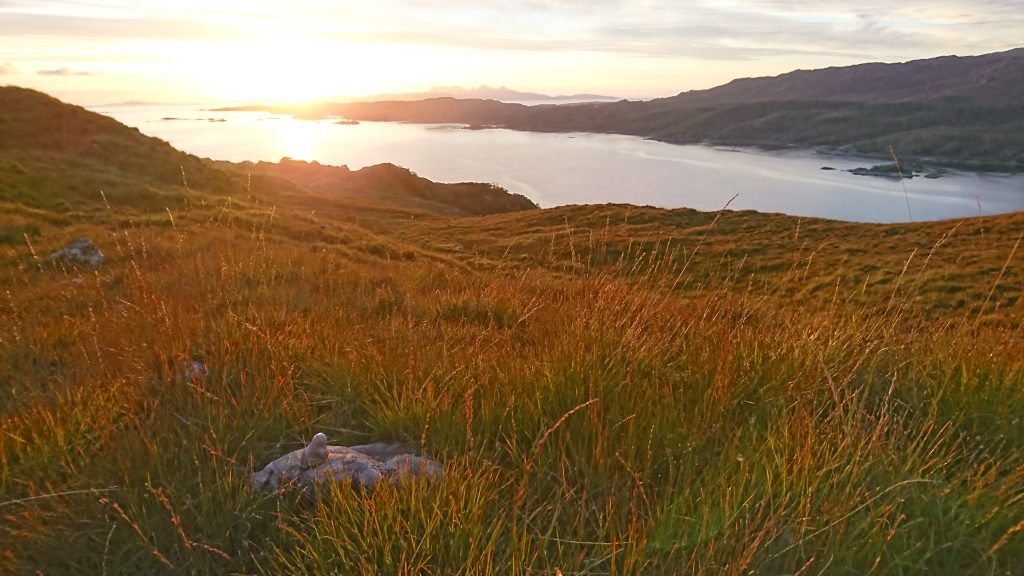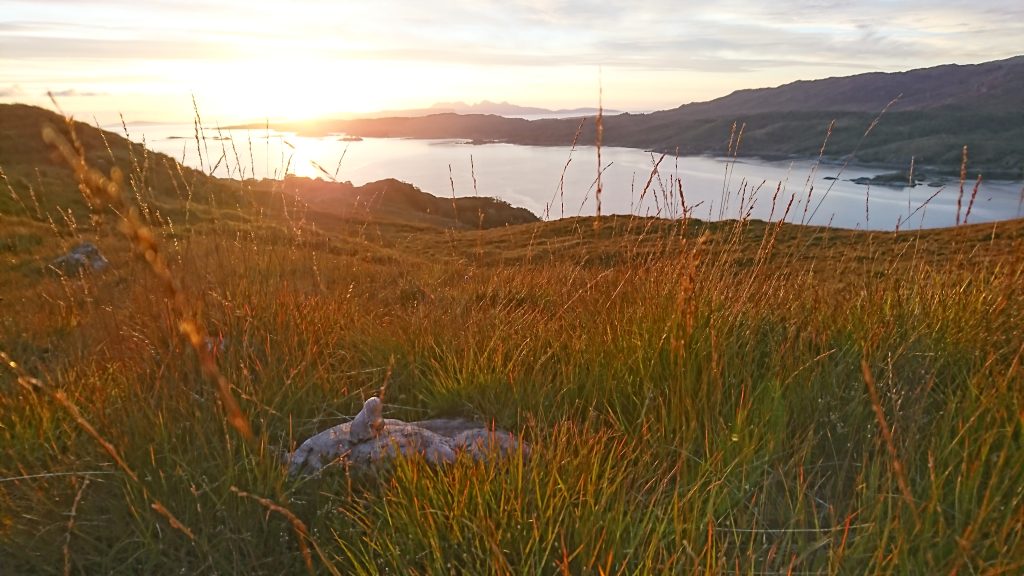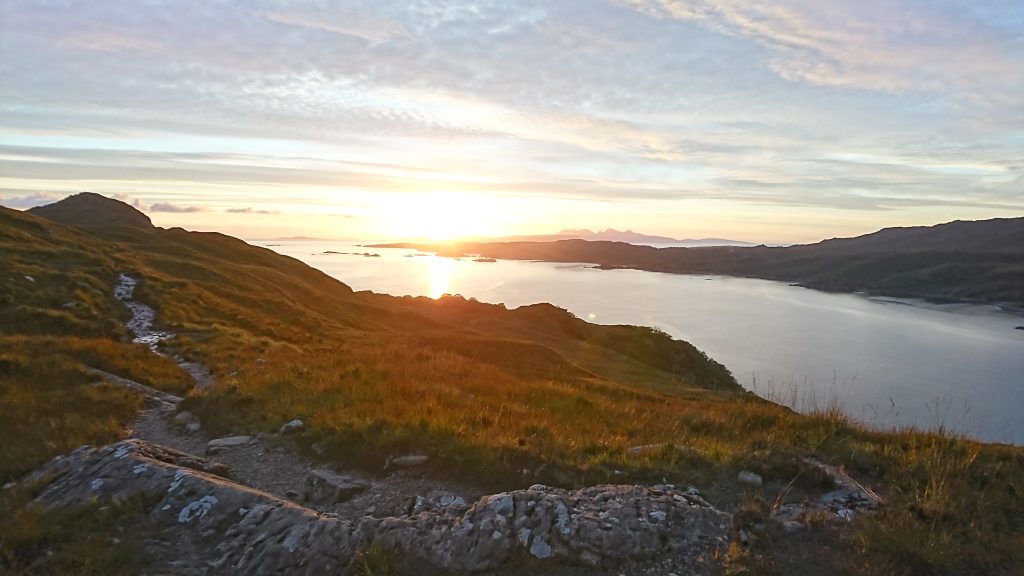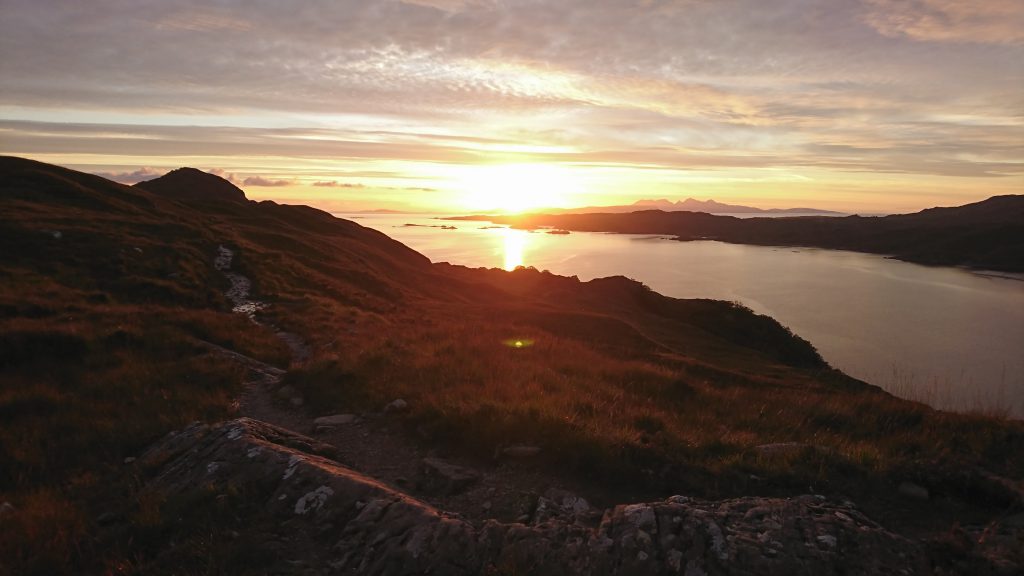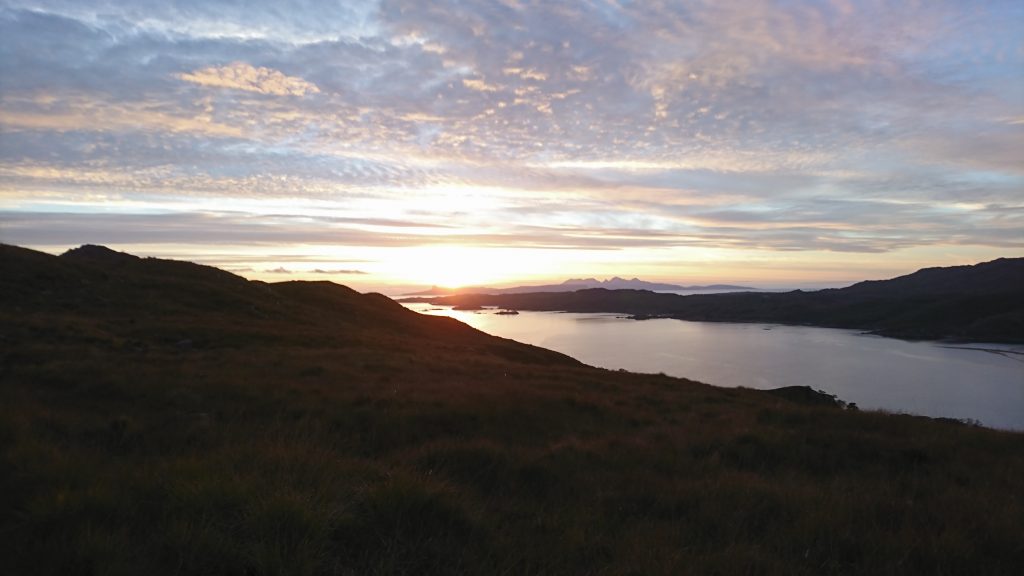 As Nina approached the bothy light and smoke were visible – sure signs that fellow bothy adventurers were ensconced already. This is always part of the bothy experience: the anticipation whether anyone else will be there and if so who?
Nina headed on in to share shelter and stories. She had a fine blether with the other bothy visitors in front of a roaring fire. It had a been a long but rewarding day for Nina and she was now ready to grab some shut-eye. After watching an amazing sunset little Nina was very eager to see what the sea had to offer in daylight. She drifted off to sleep dreaming of ocean waves.
Oh to be Beside the Sea
In the morning Nina ventured the short distance from the bothy down to the beach. What an awesome setting little Nina had found. She breathed in the invigoratingly fresh sea air. Wow! Now Nina could see just what a West Coast of Scotland beach was really like. Her little head was dizzy drinking in all the natural beauty of the landscape and seascape before her. White sandy beaches set amongst mountainous backdrops: Nina was loving this.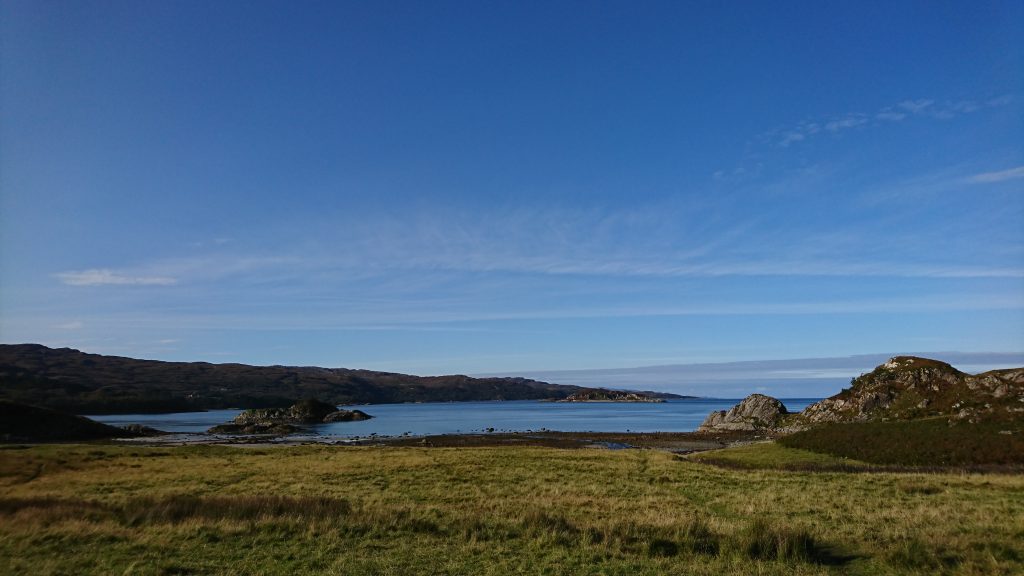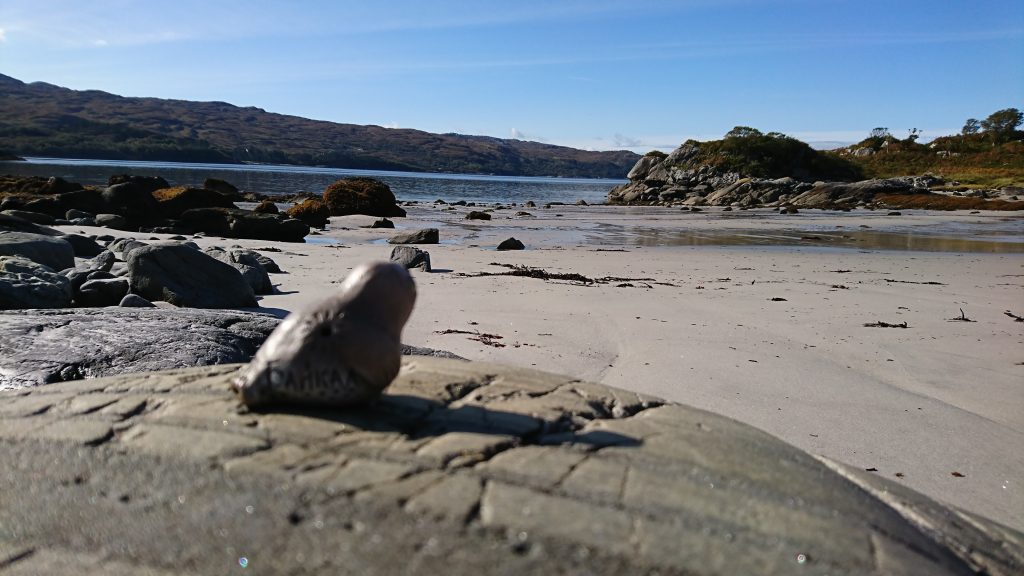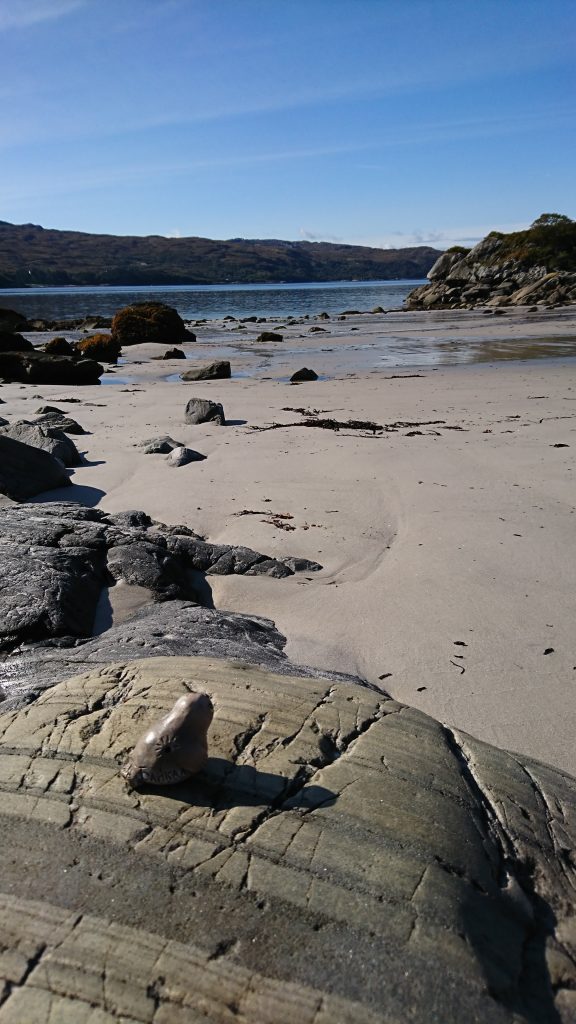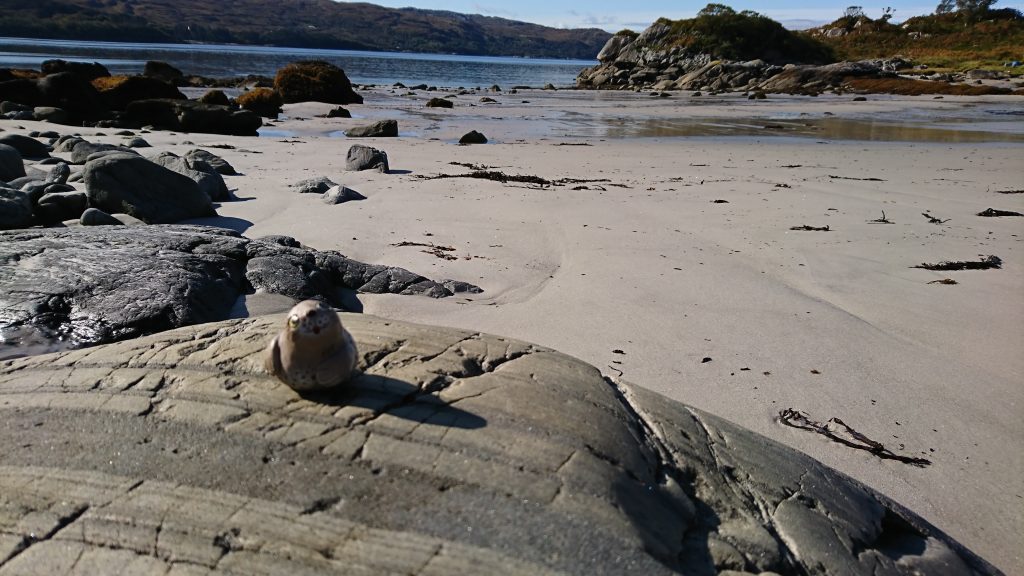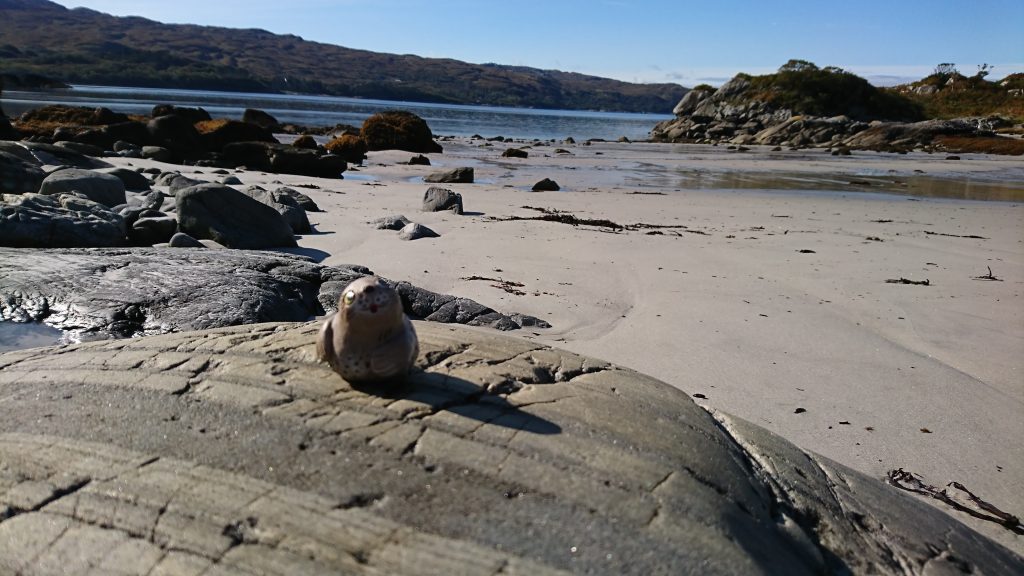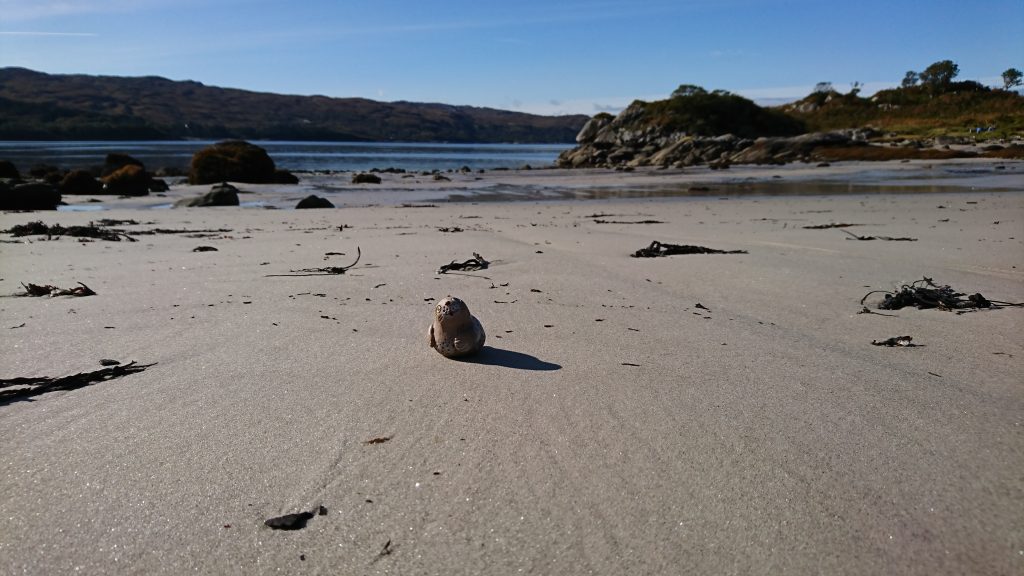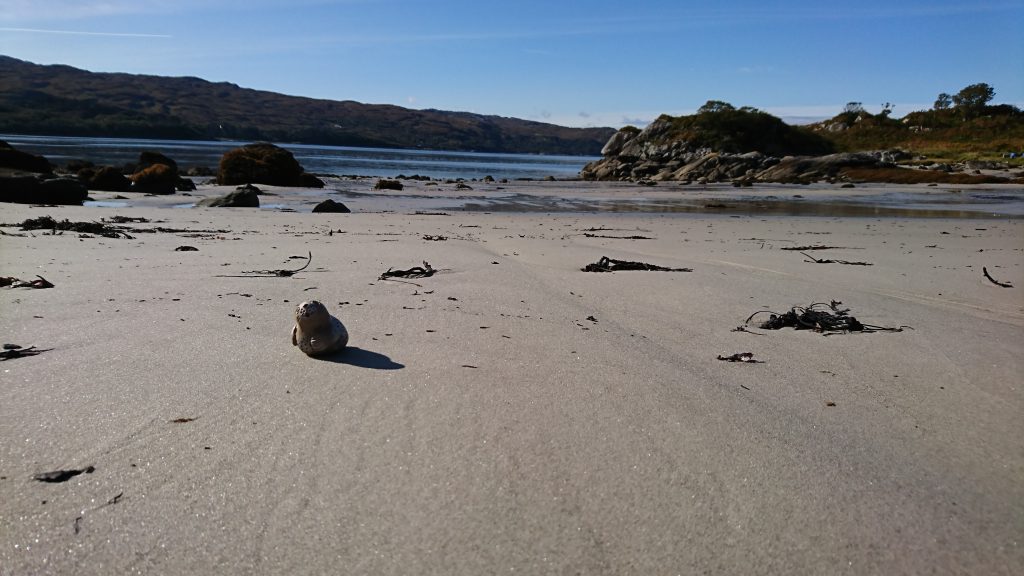 Nina was keen to explore all around. She scoured her surroundings full of glee. This was an enchanted land and little Nina was enjoying creating her very own seaside saga. First, Nina went on a rock pool mini-adventure. Thereafter, back on the beach, she discovered lots of cockels and mussels as she bobbed all around.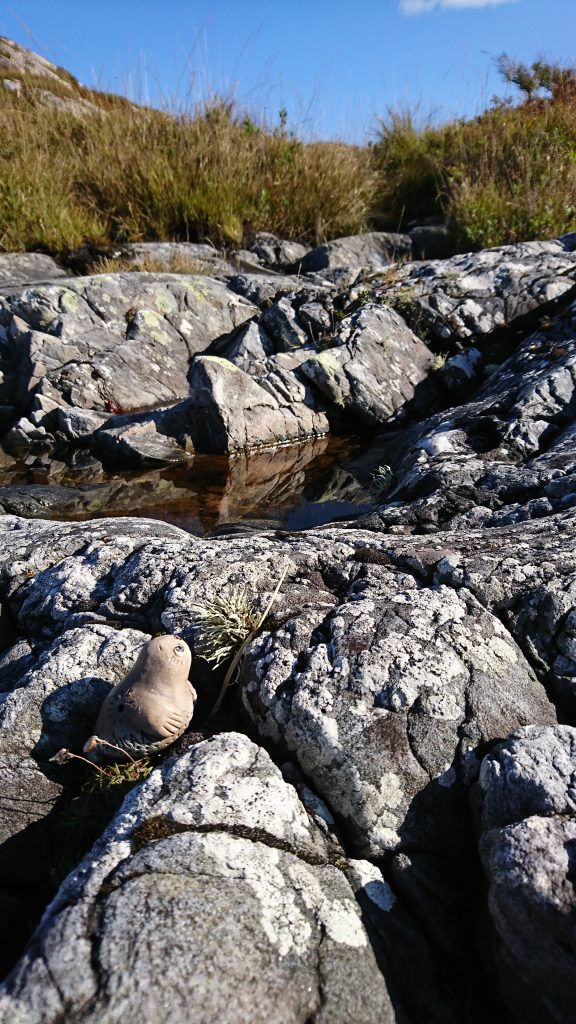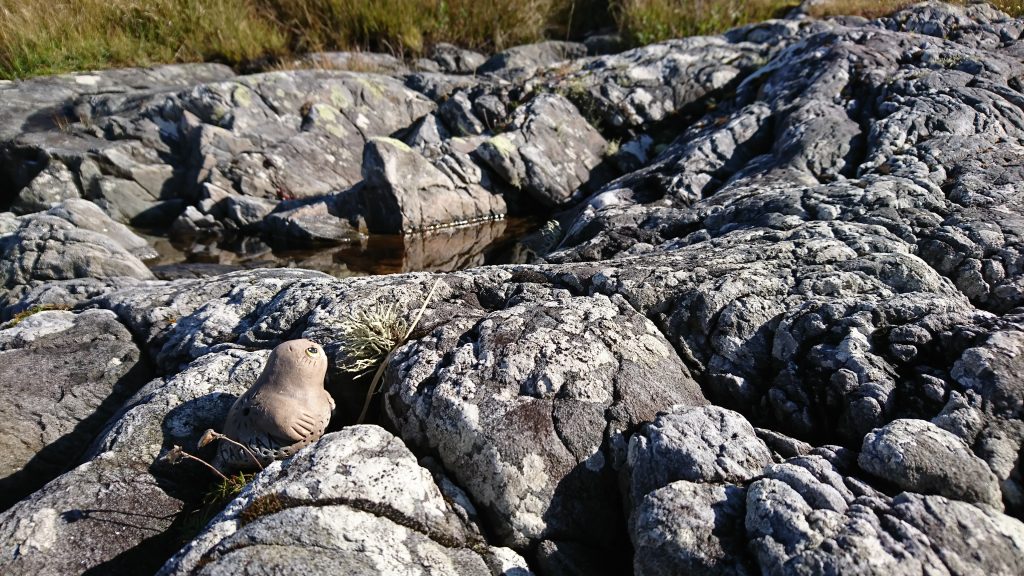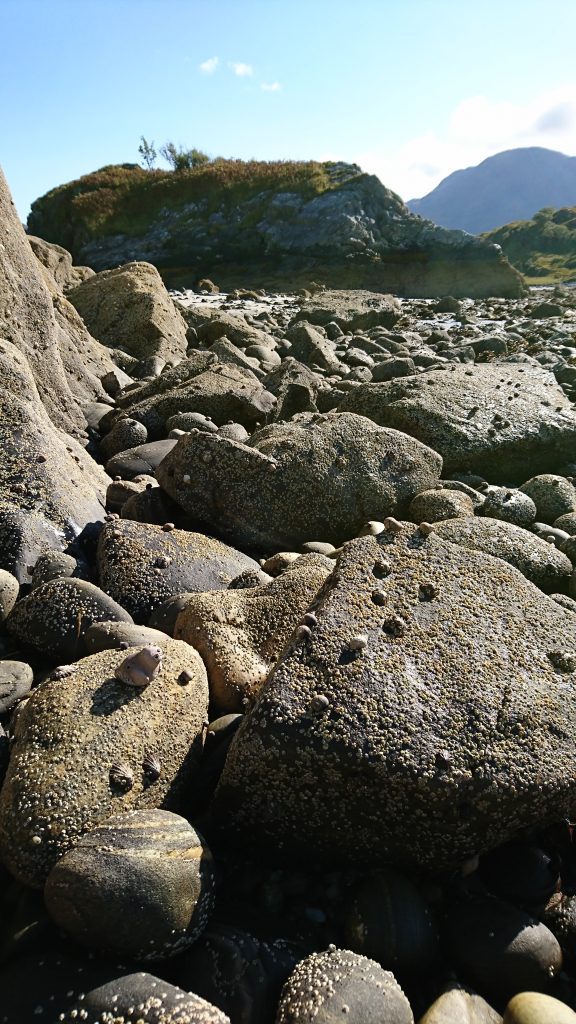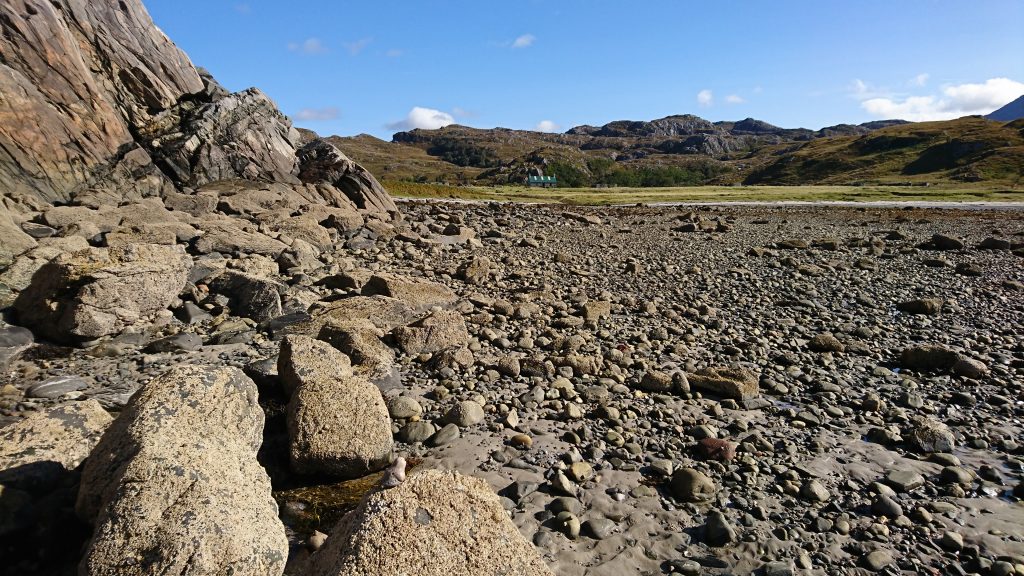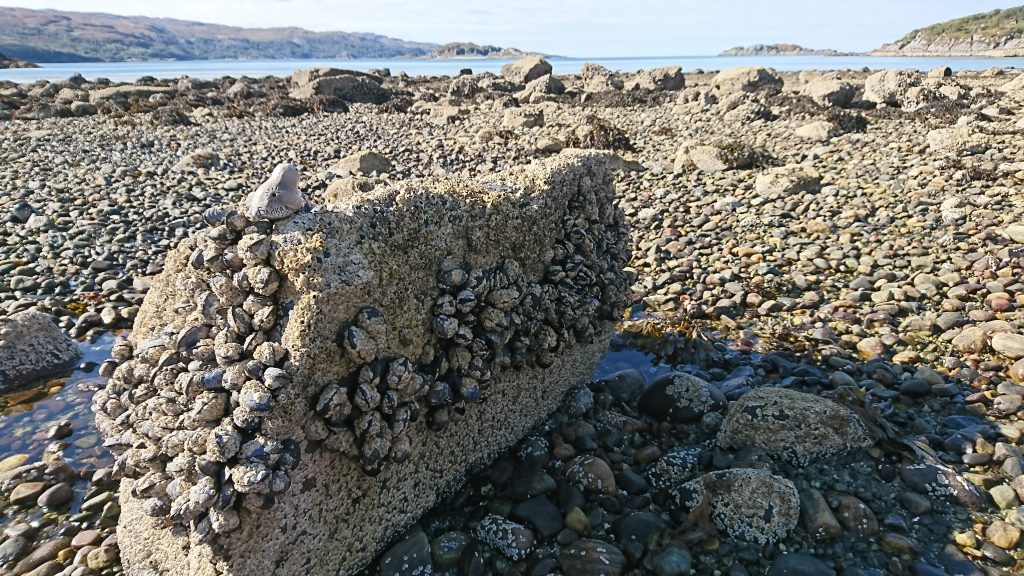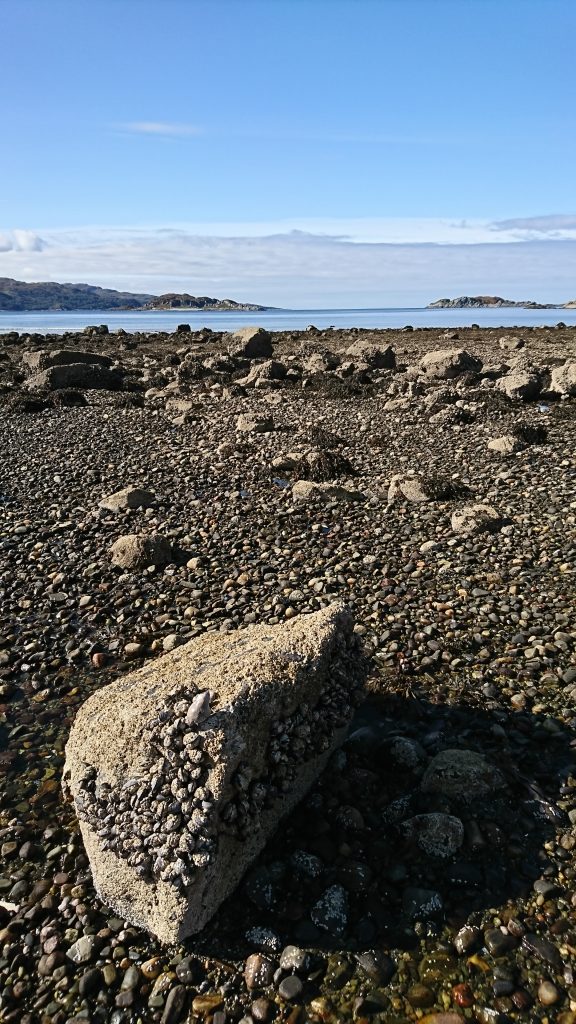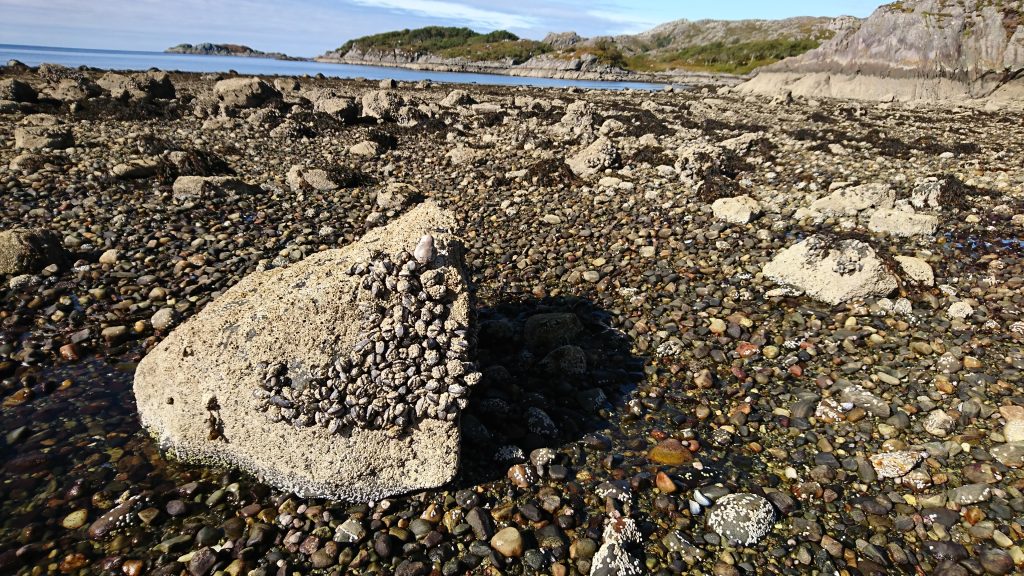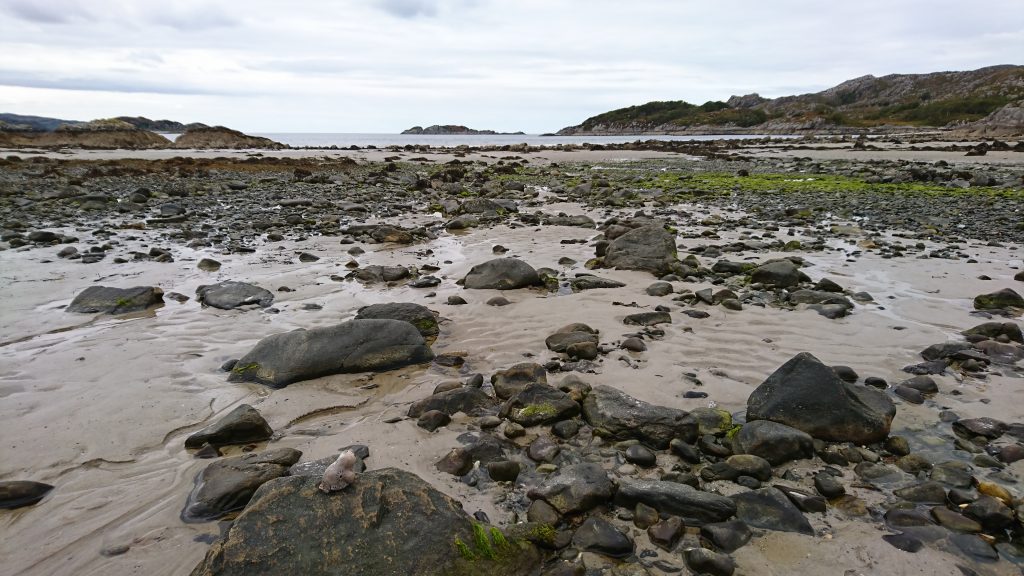 Before long Nina just could not resist the temptation and headed off for a swim in the sea. It was a liberating experience for a little freshwater seal to be swimming in the sea, finally. Up to this point Nina had only swum in freshwater in her native Lake Baikal. Now she could indulge in two of her life goals: sampling sea and seeing Scotland. The coastal air was so pure and the sea water further invigorating for. As she bobbed along in the water Nina kept a look out in case of grabbing a glimpse  of one of her distant cousins: sea lions.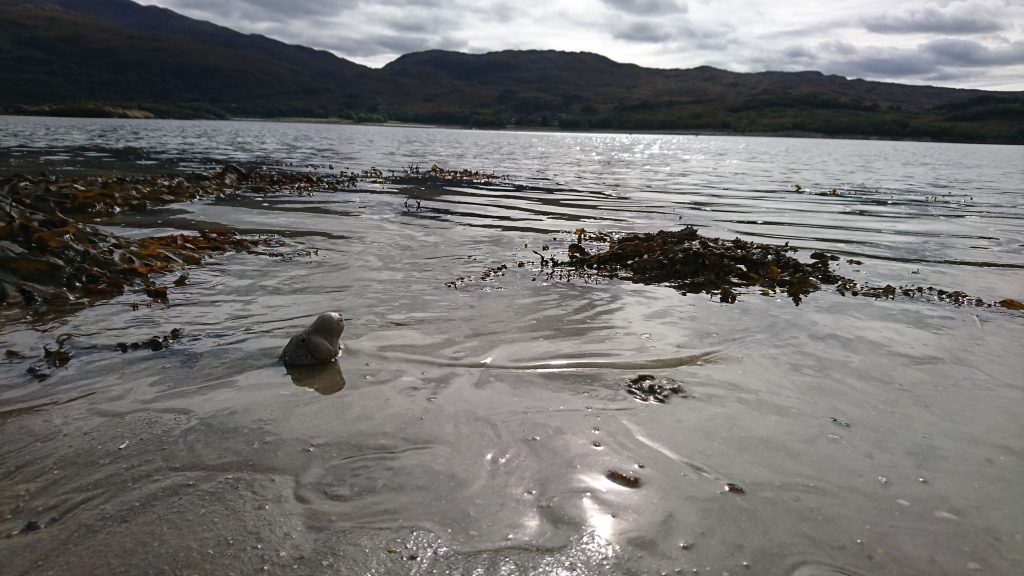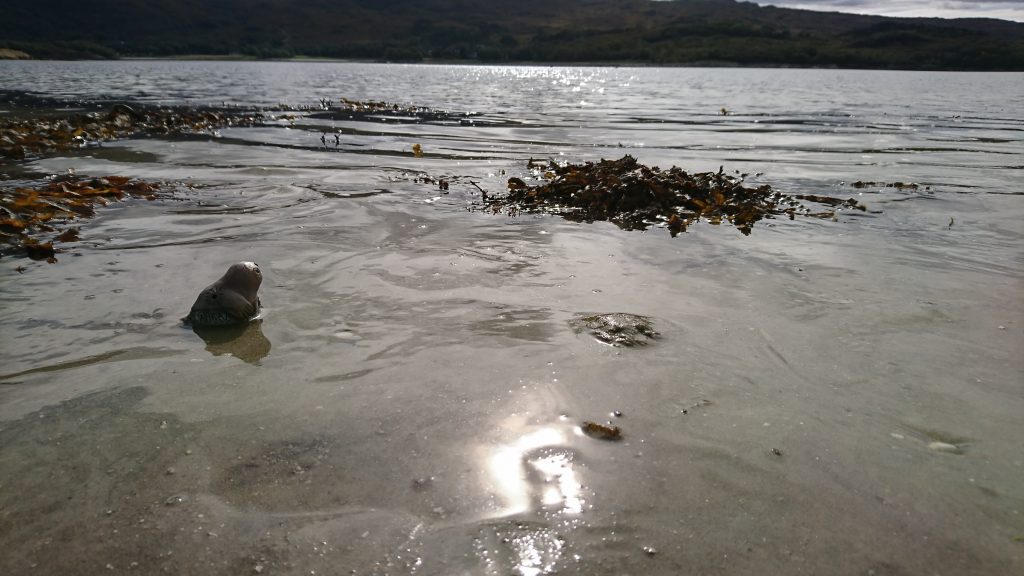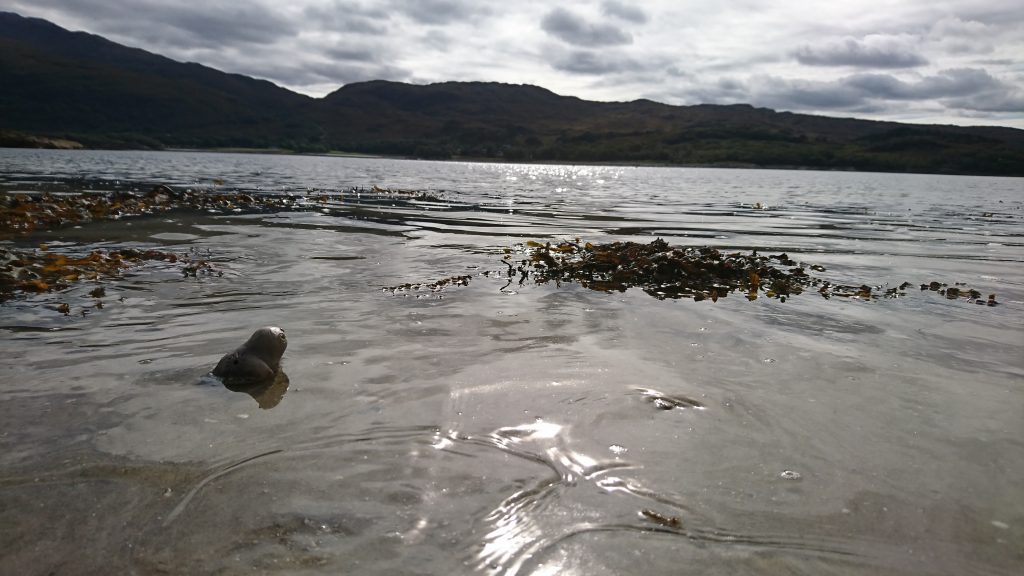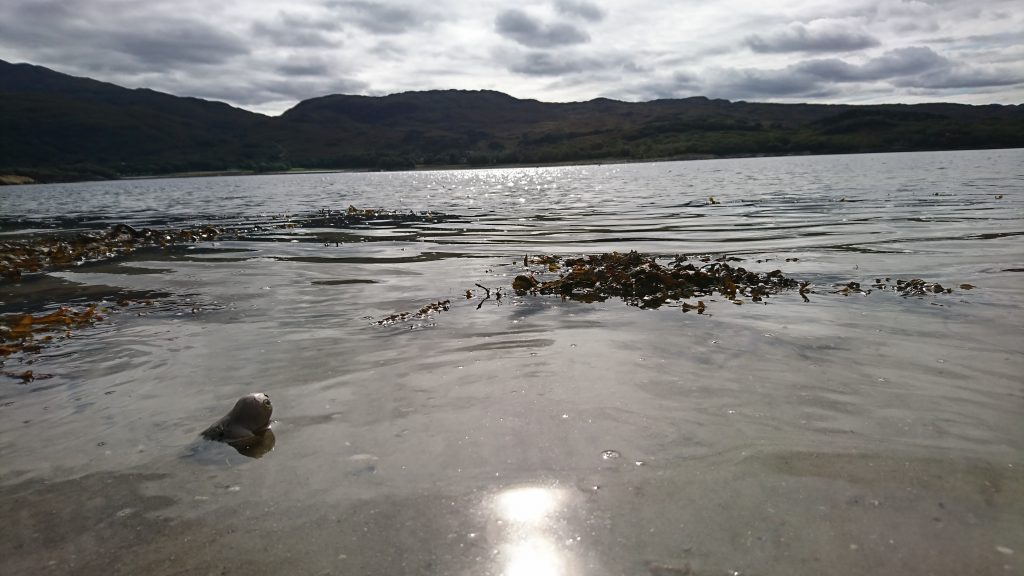 Time for More Adventure on Dry Land
After her mini-adventure in the sea for the first time Nina went exploring back on land. She found some lovely heather and other alluring plants. Further afield she found some intriguing mushrooms. The day was just getting better and better as Nina basked in all that Mother Nature had to offer. She said hello to a caterpillar and a frog that she met, always keen to make new friends.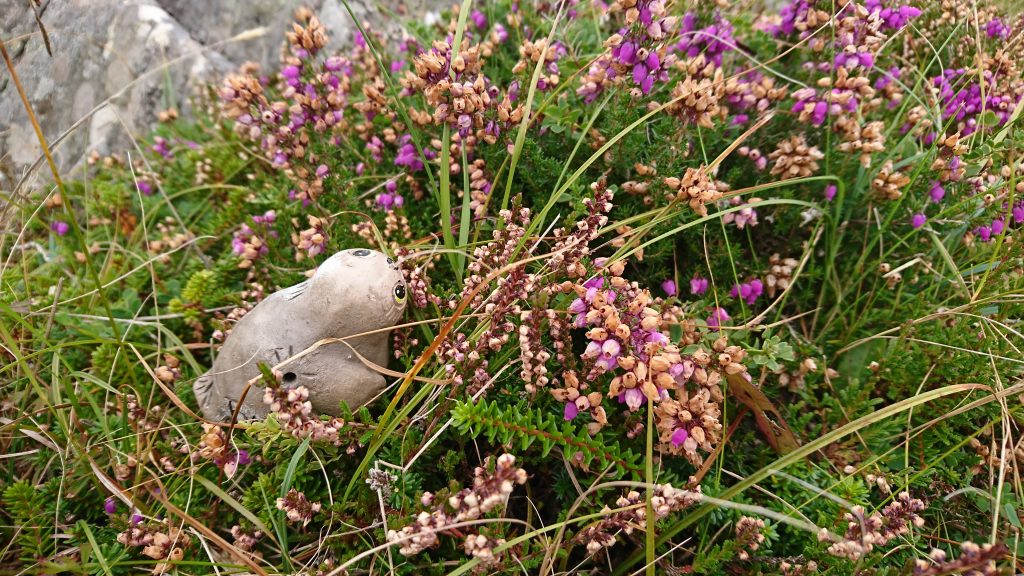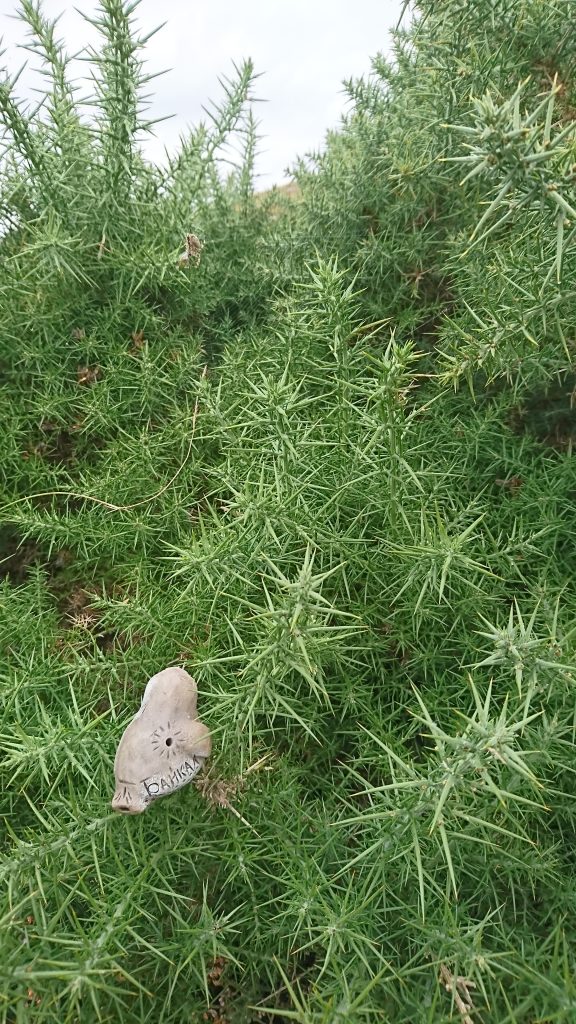 Nina took some time out to spend some time with a spider.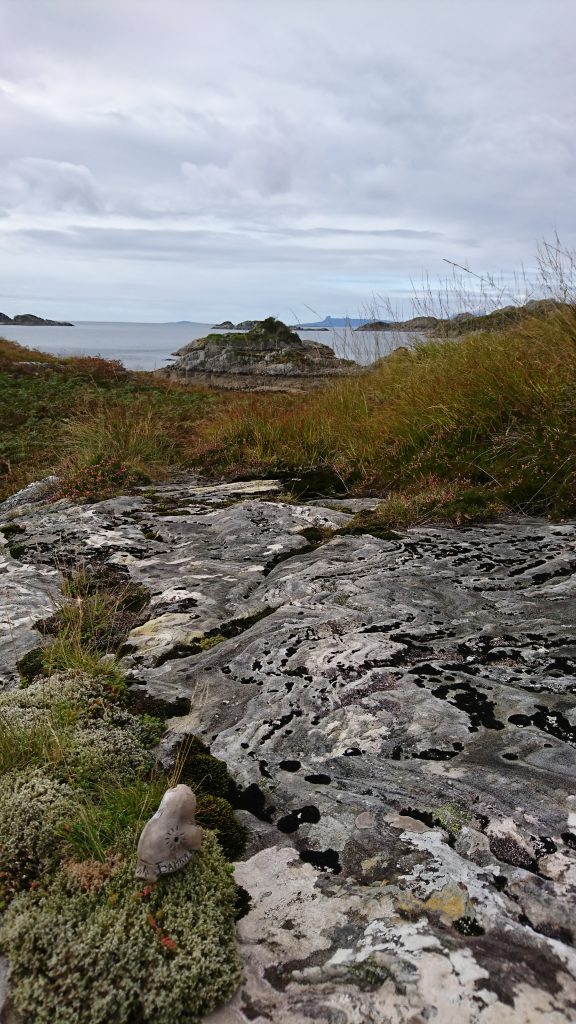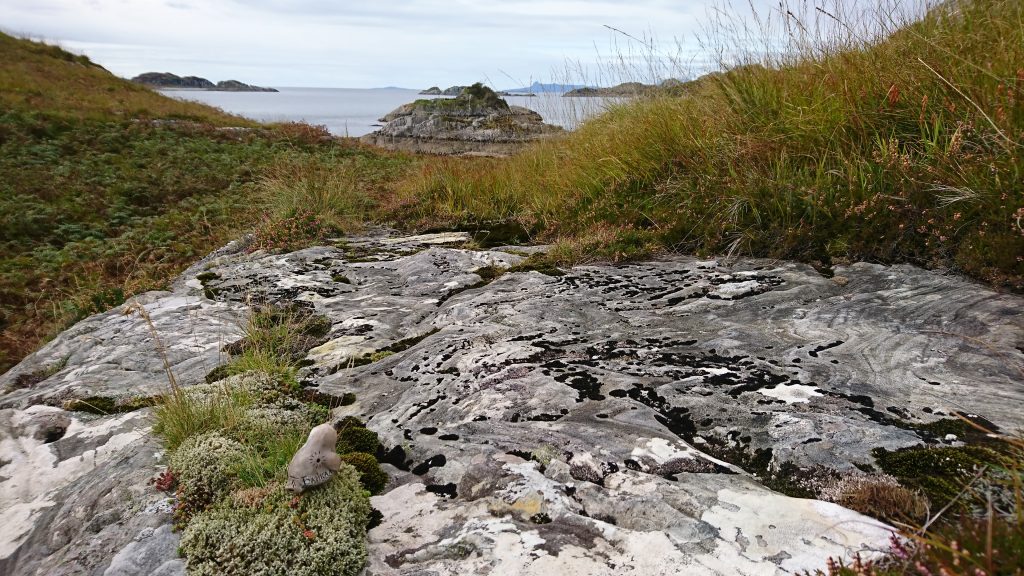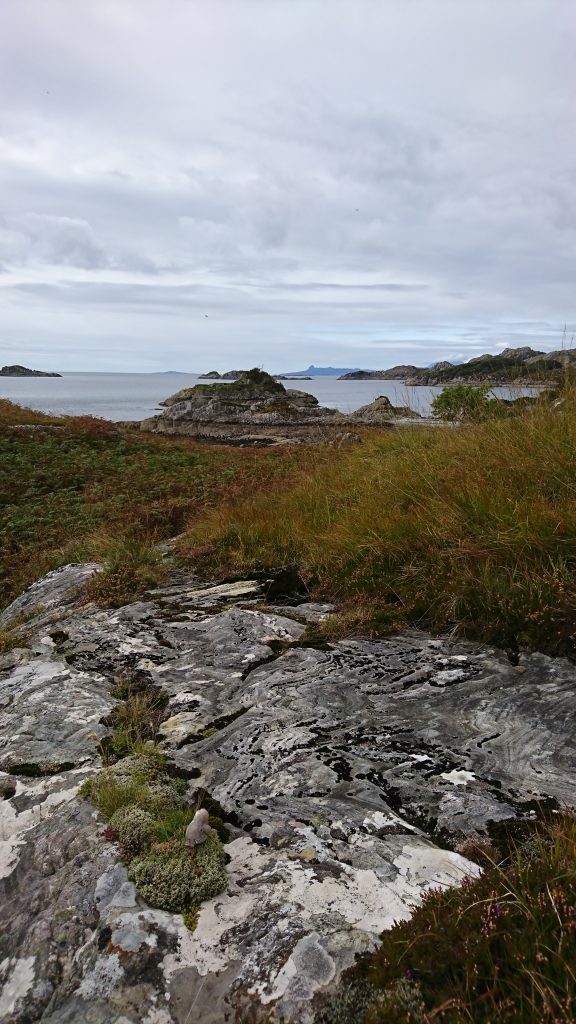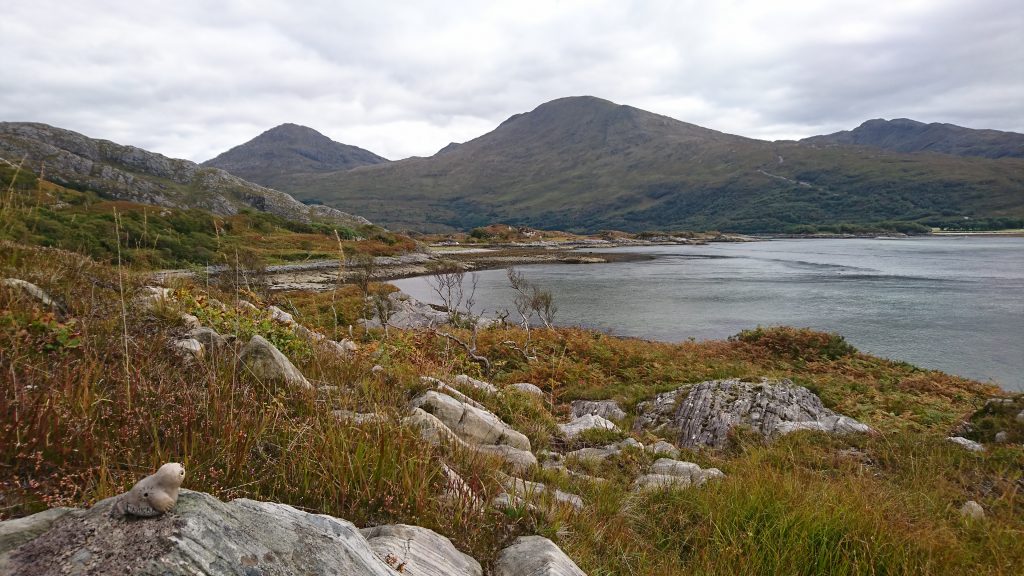 A trip to the seaside just wouldn't be complete without sampling some seaweed. Nina found a bountiful supply and set about bathing in it.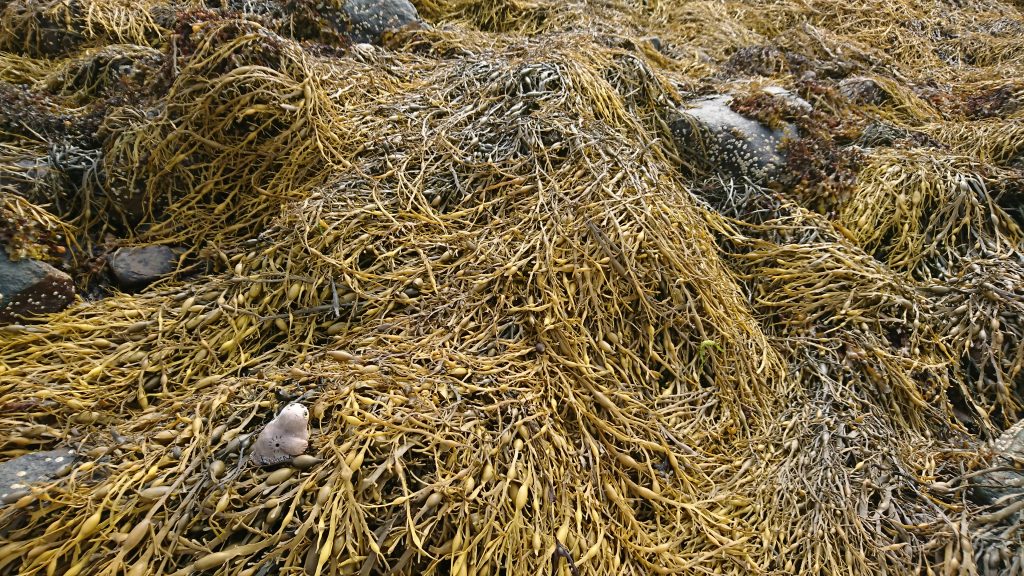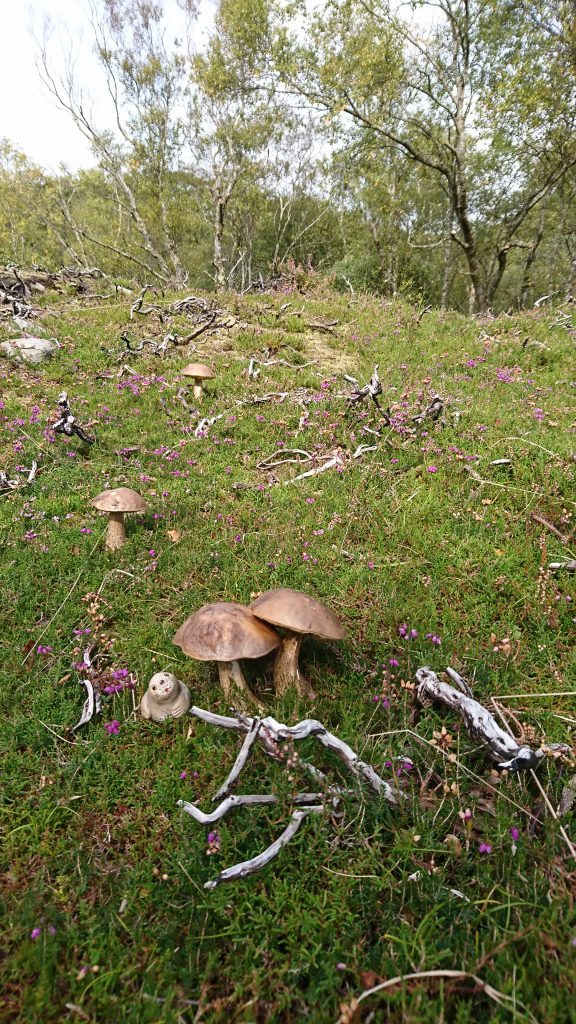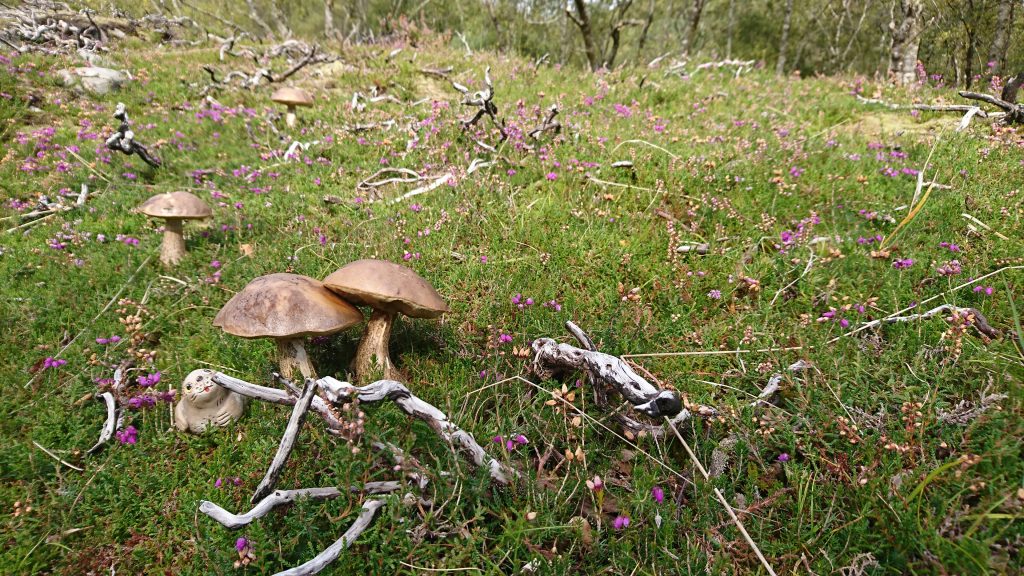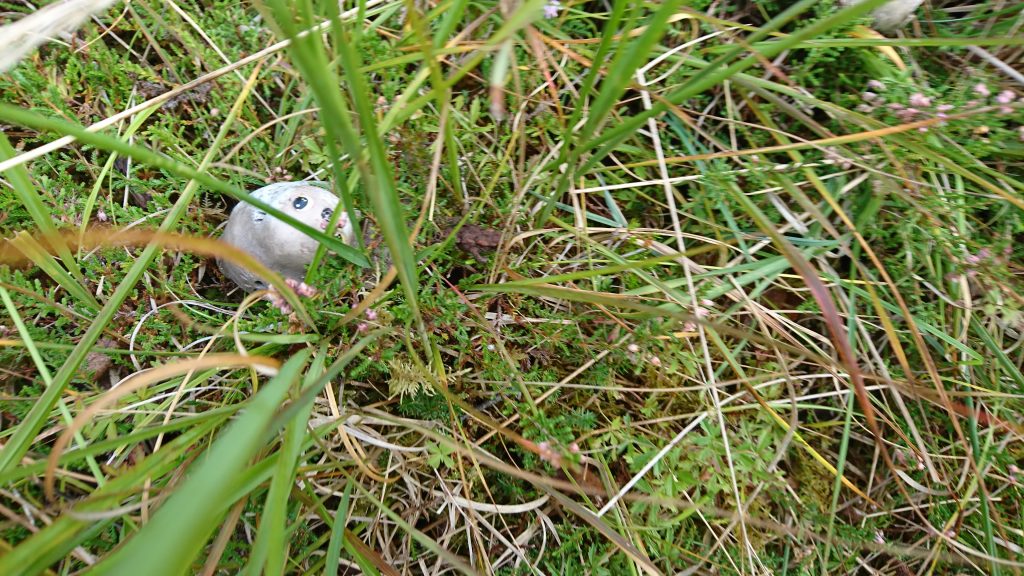 This Peanmeanach bothy experience was turning out to be a wonderful adventure for little Nina. She took some time out to appreciate all that enables bothy experiences from the generosity of land owners and donors to the great graft of all the volunteers who maintain these wonderful shelters. They are a fine Scottish institution.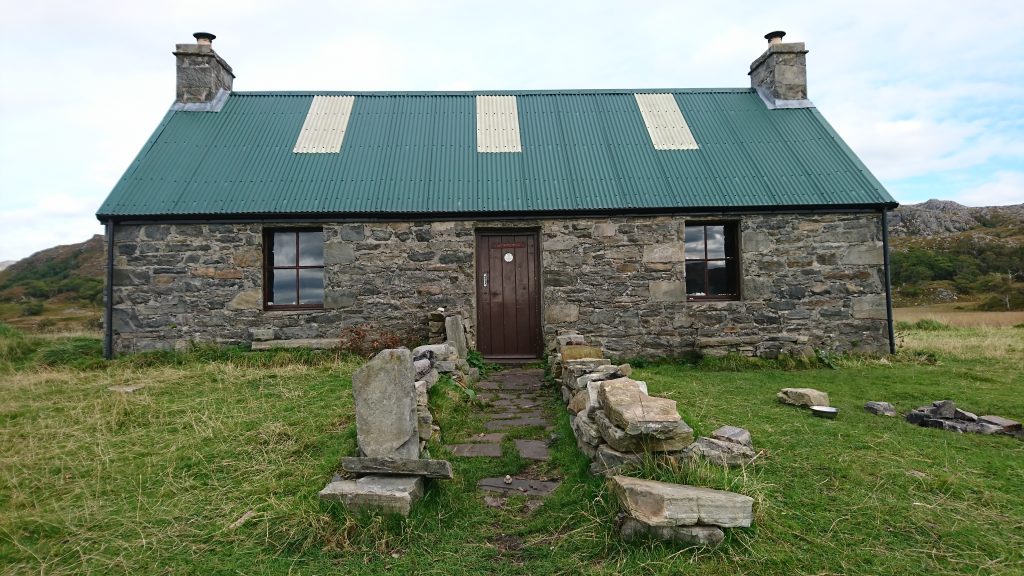 Feasting on Nature
Later on Nina started to feel a little peckish. Being a resourceful little Nerpa she had, of course, brought plenty of provisions. However, she was very pleased to discover an abundant supply of brambles nearby the bothy. Brambles are so tasty and make a nice change from a glut of fish.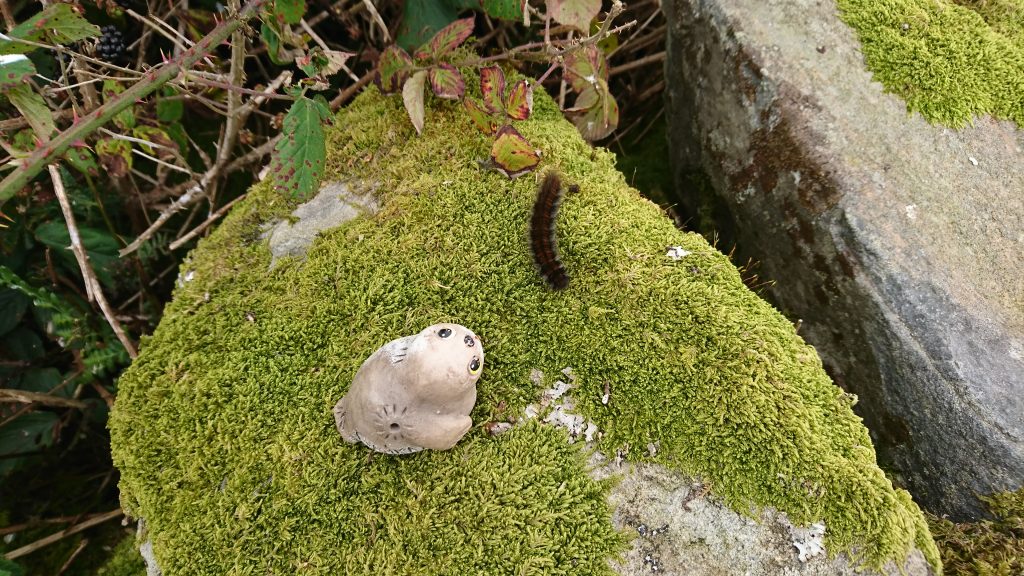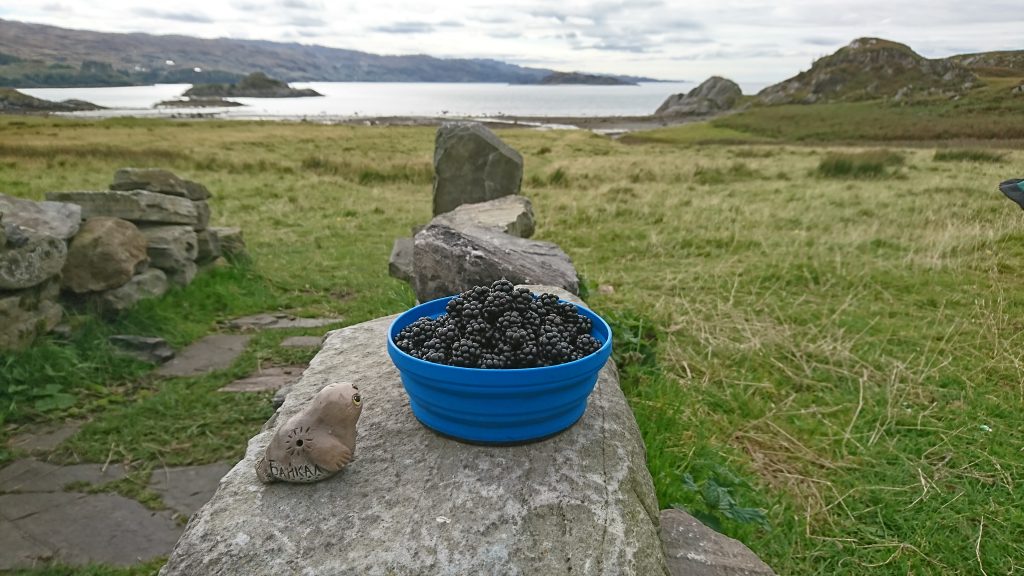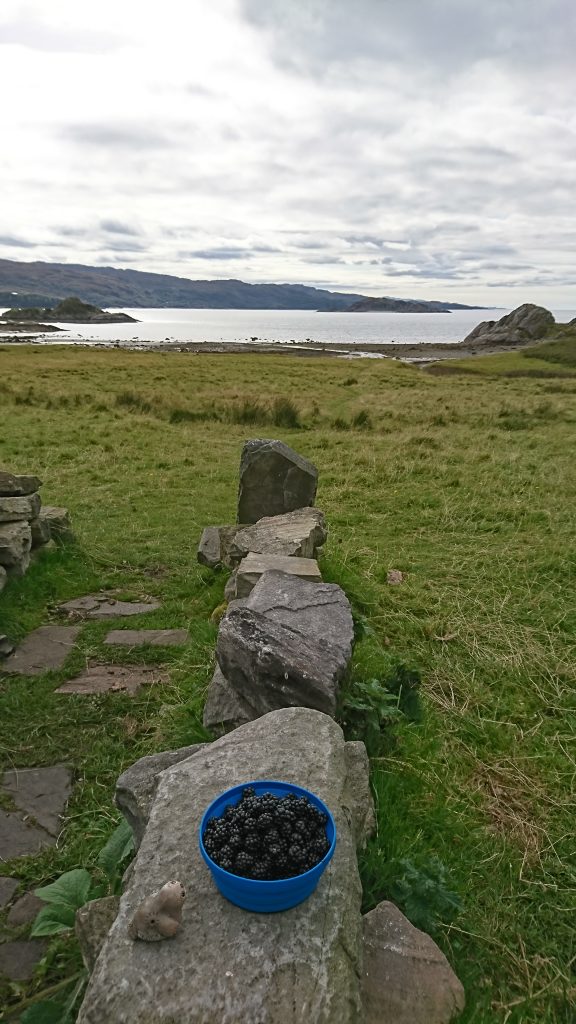 Wrapping up a Wonderful Adventure
Little Nina was enthralled by her very first bothy experience and chance to swim in the sea. It would be difficult for her to part company with this enchanted little corner of Bonnie Scotland.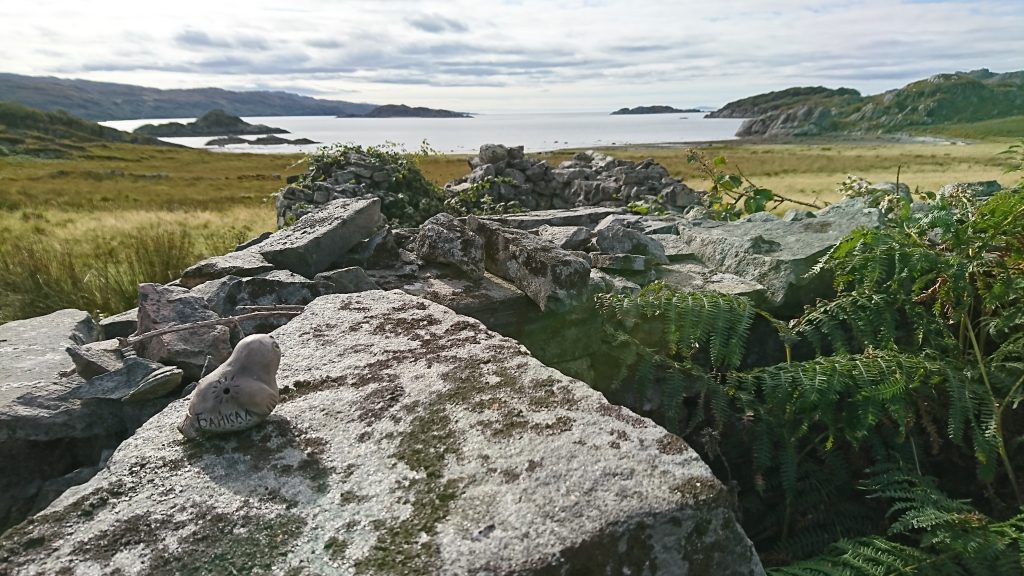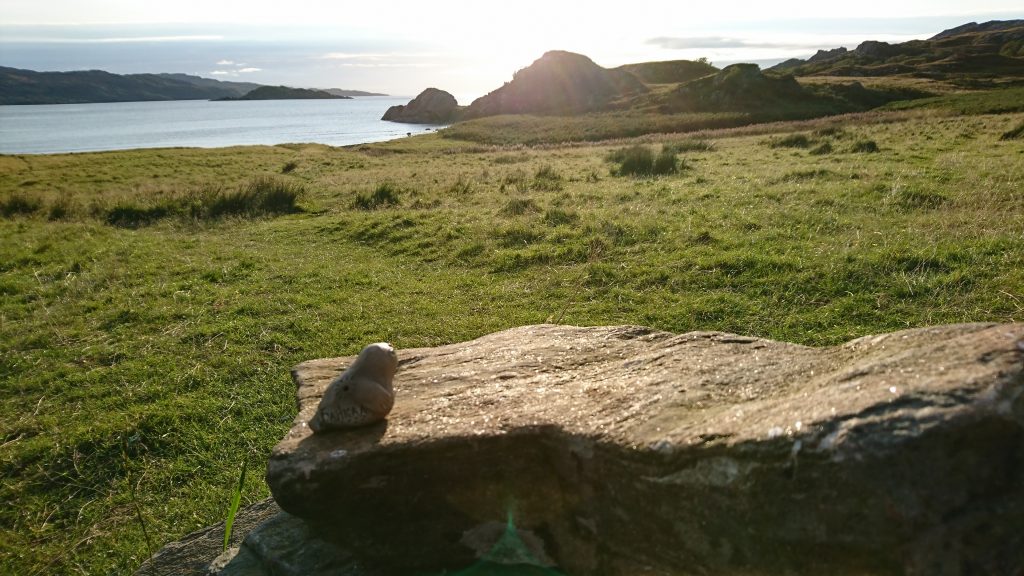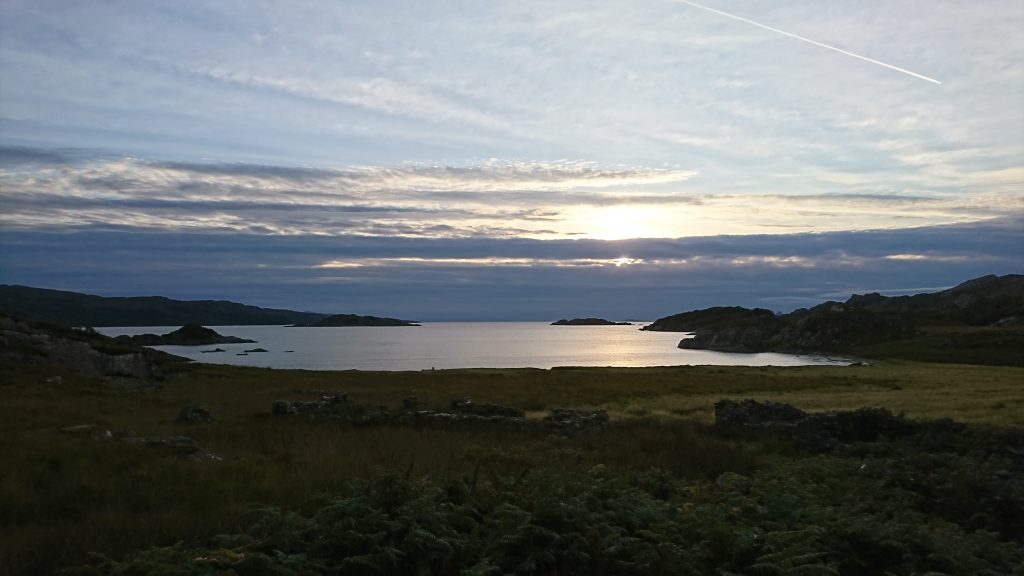 After another night in the bothy Nina collected her belongings and her thoughts and headed off back on up the path to the road. She paid a brief visit to nearby Mallaig where she discovered a wonderful furry friend.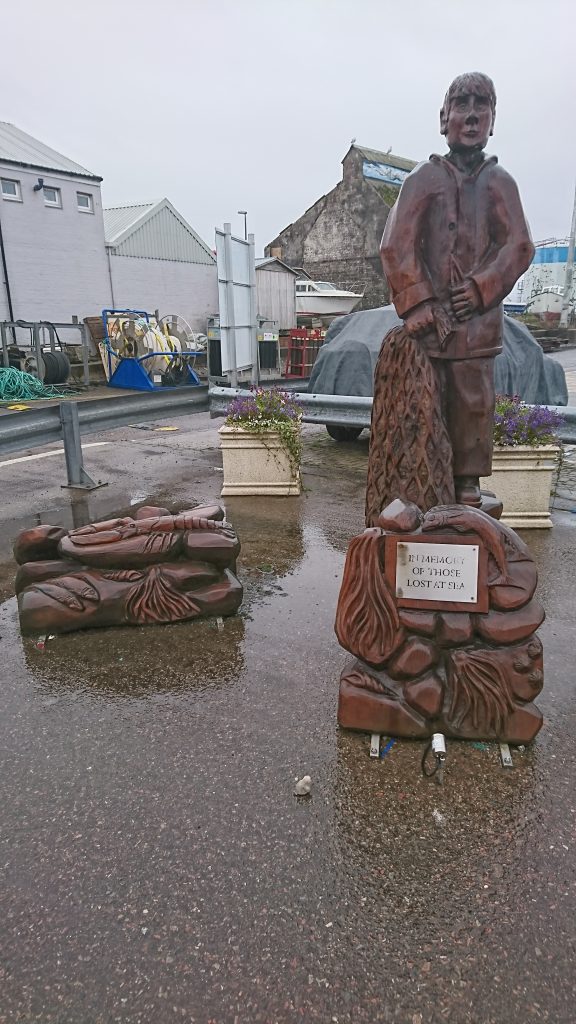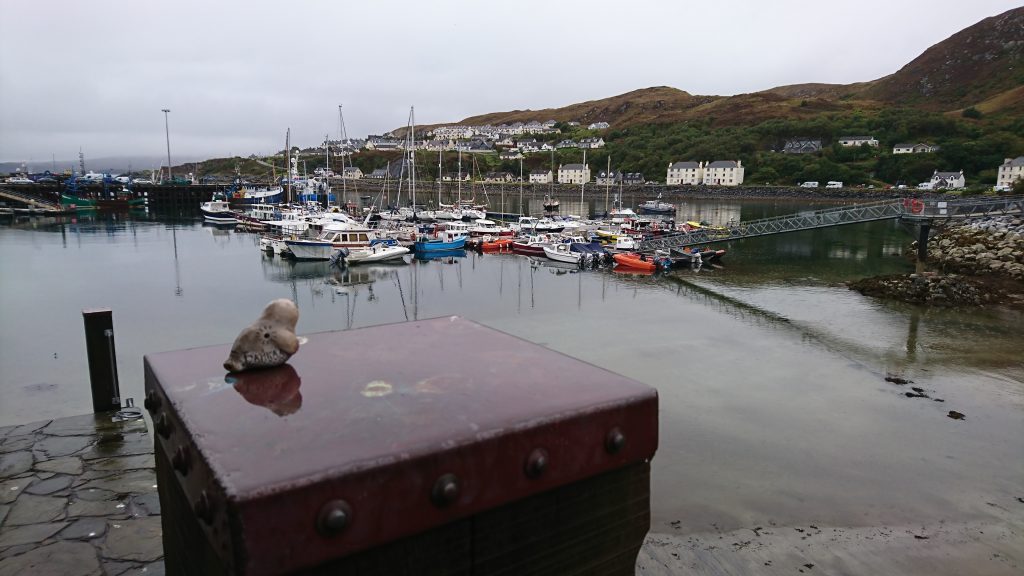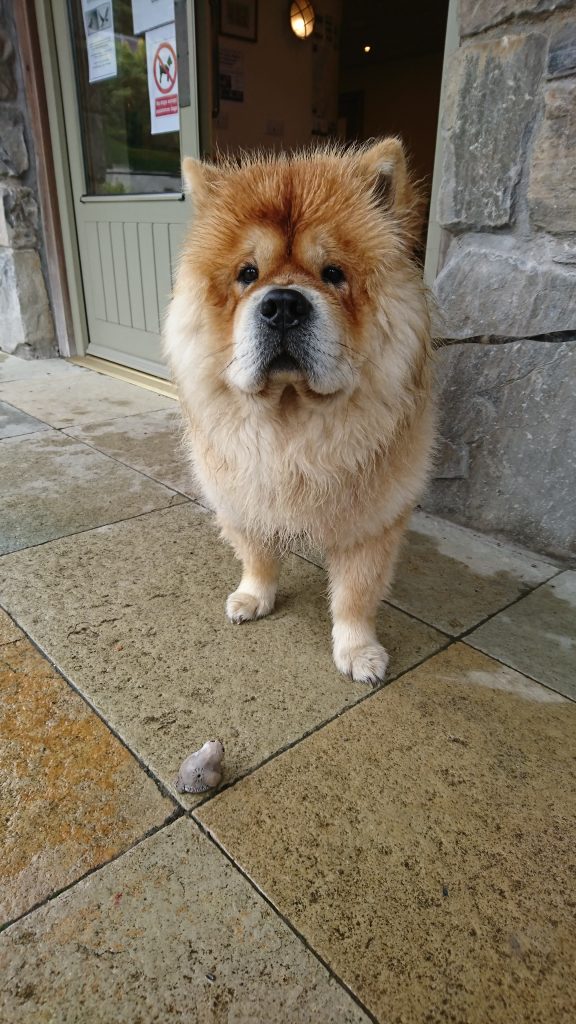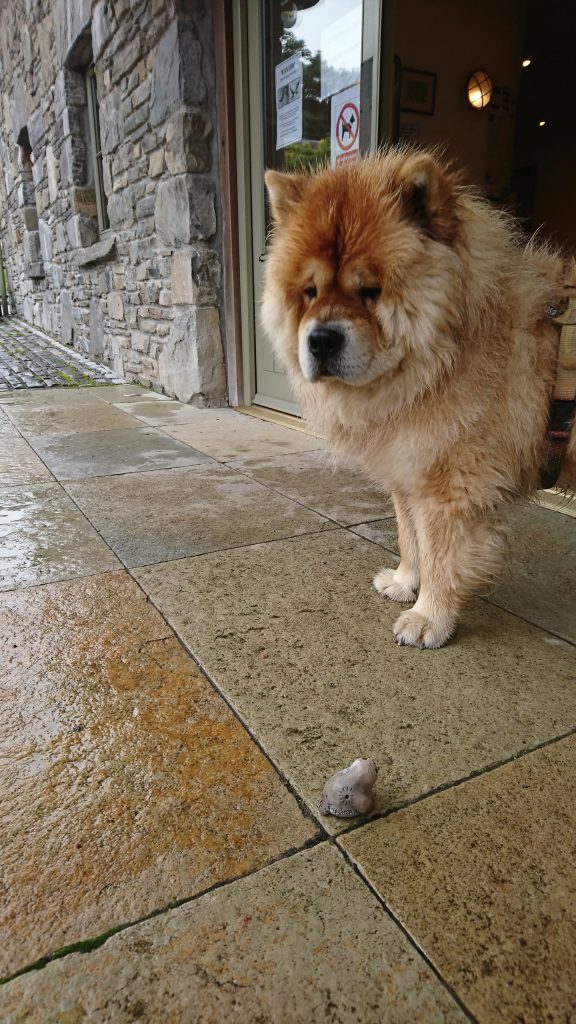 This was a truly great adventure for Nina the Nerpa.
What did you think of Nina's adventure? Please share this adventure and leave a comment below.