This winter just passed I had a most enjoyable experience volunteering for the Great Baikal Trail (GBT) organisation. I had volunteered for GBT before  in the summer of 2015 and had a great experience then too. You can read more about that here.
I had already enjoyed a summer in Siberia. What would a winter in Siberia be like?
I met the other volunteers in the little GBT basement office. It was great to see Zarina and Natasha whom I'd been with on the project in the summer of 2015. Natasha would be crew leader for this winter project so I knew that we would be in great hands.
Since we were in Siberia it would be rude not to break the ice. Hence, Nadia (our team interpreter) led the way with some icebreaker games. We were a small but well-knitted team right from the word go.
It was also great to meet Anya again. I had met Anna when I started volunteering for GBT in 2015 to help setup the new office. Anna gave our winter project team a walking tour of Irkutsk. This was a very informative tour and most enjoyable with pleasant weather and lots of great sights big and small for us to admire.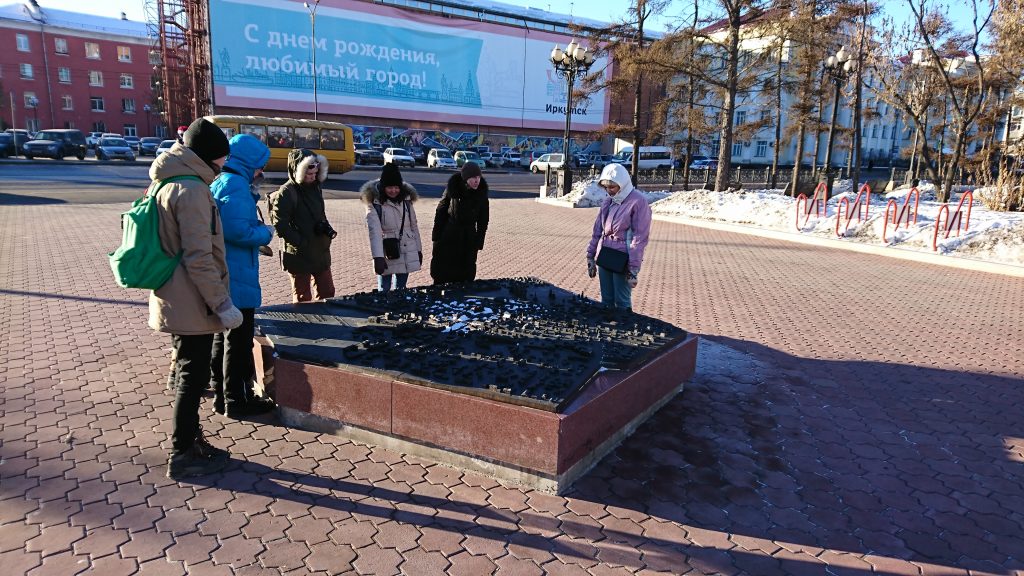 That night we stayed in the Shiksha hostel and were given a very warm welcome by our host Tatyana.  I often travel with a little guitar to embellish the entertainment options. I performed a few songs on it and was delighted to discover that there was another guitar player in our ranks. Lena played some tunes too and we all got a chance to discover her wonderful vocal presence.
Despite the cold Siberian winter nights there was no chance of us catching a chill in this cosy wee hostel 😊 Spasibo Tatyana for your hospitality and good luck with your interesting wood carvings.
The next day we set off for the train station to catch a train that was Baikal-bound. The train ride was most enjoyable with wonderful views to enjoy as the Siberian winter landscape revealed itself frame by frame through the train windows. The team was bonding well and we were all in high spirits. Just like little children in anticipation of visiting the beach and going swimming we were very excited about seeing Baikal in her winter guise – this time we knew that we wouldn't be swimming though.
We disembarked the train at a little station not too far from Angasolka. Next followed a trek with all our expedition kit along and downhill through a little wood.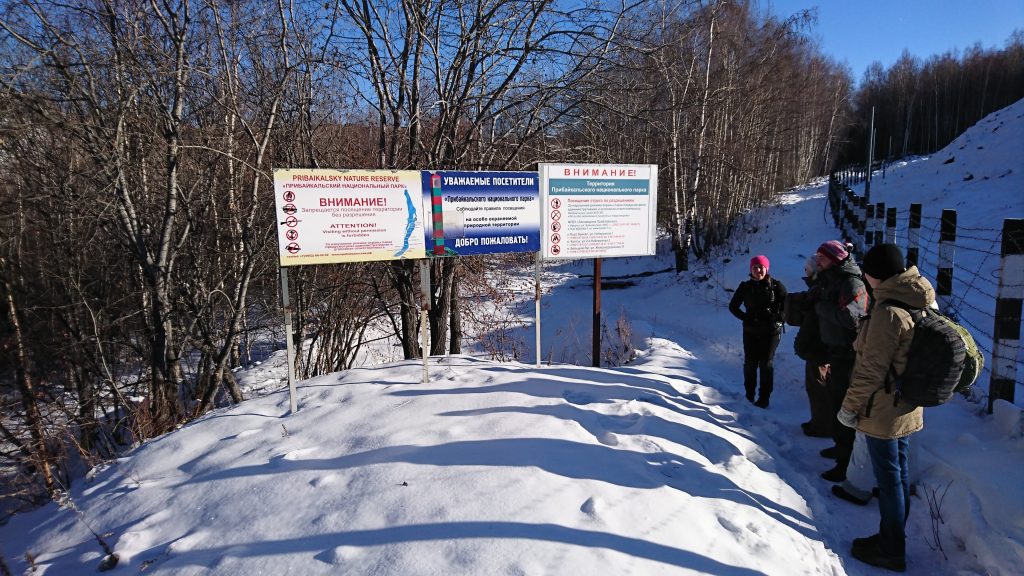 The snow was quite slidey in places and we had to keep good balance with our big backpacks as we nudged ever closer to Baikal. We then had to negotiate an icy section of trail which required even more delicate balance. Vlad was in too high spirits to be suppressed though and decided to entertain the crew with some impromptu break-dancing on the snow and ice. At least it seemed like this, or was it that you just lost your balance Vlad? 😉
Soon Baikal revealed herself to us in all her winter glory as we entered the little settlement of Angasolka. We set up camp in one of the little guest houses. It would take a while to thaw the pipes in the building but that mattered little as we had Baikal to bask in.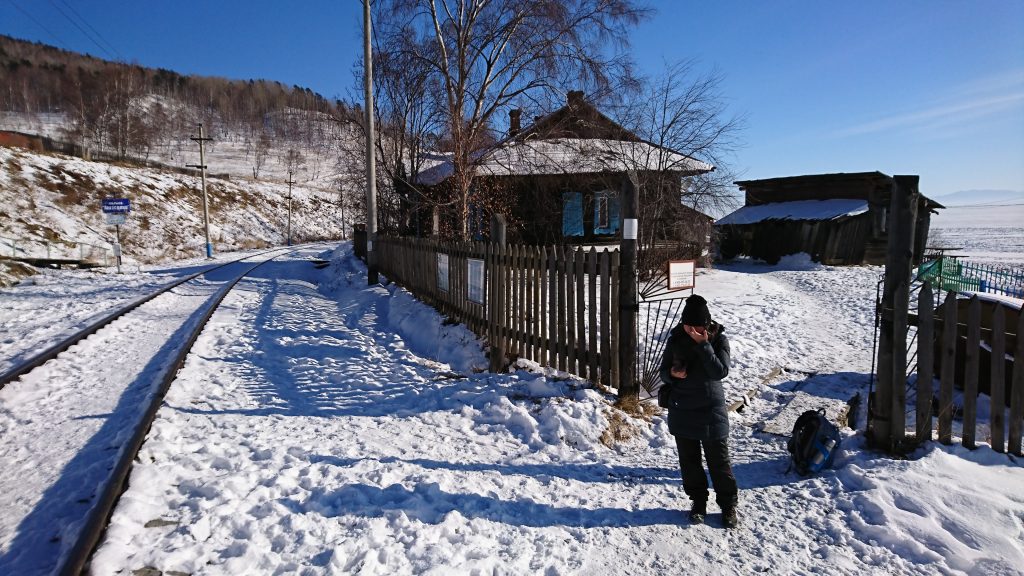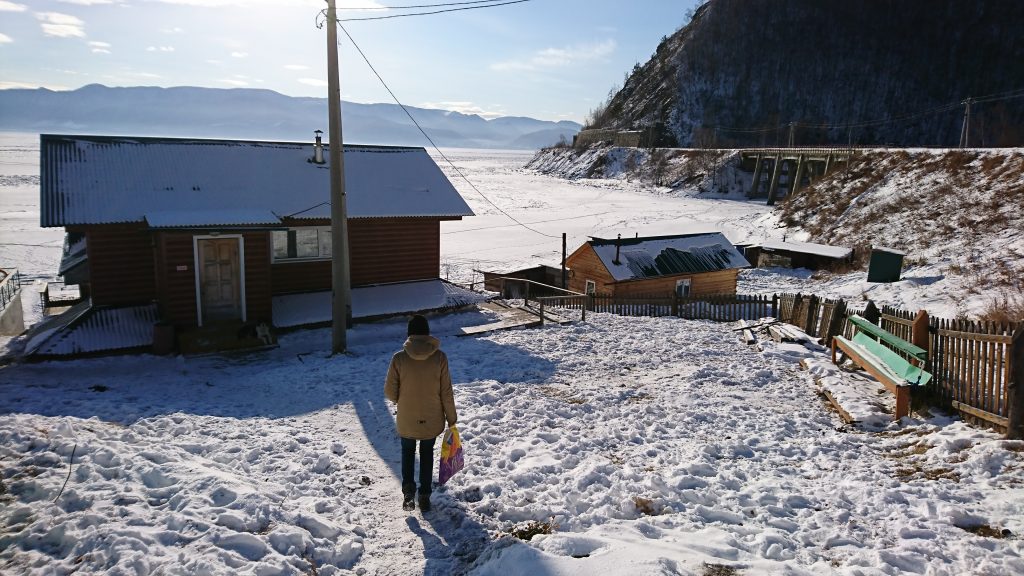 I had swum in Baikal and drank Baikal before. I was about to add to my Baikal experiences by walking on Baikal and even eating it! The Baikal ice afforded me these new privileged experiences.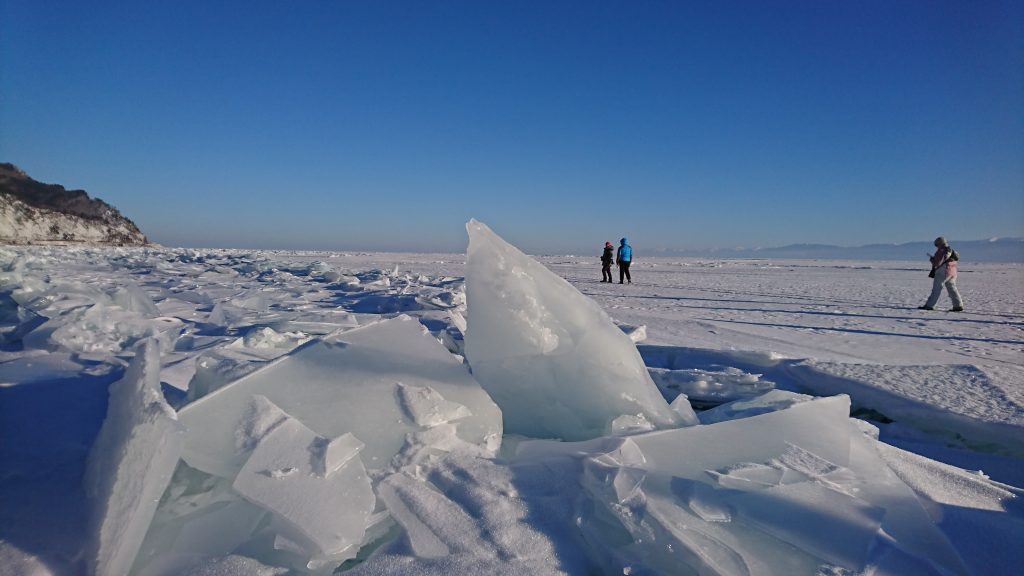 Sonya guided us and took some great photos during this first stage of our volunteering adventure. We marvelled in the variety of ice formations that the ebb and flow of Baikal had morphed into. The crystal clear water had hibernated to yield some exquisite ice formations.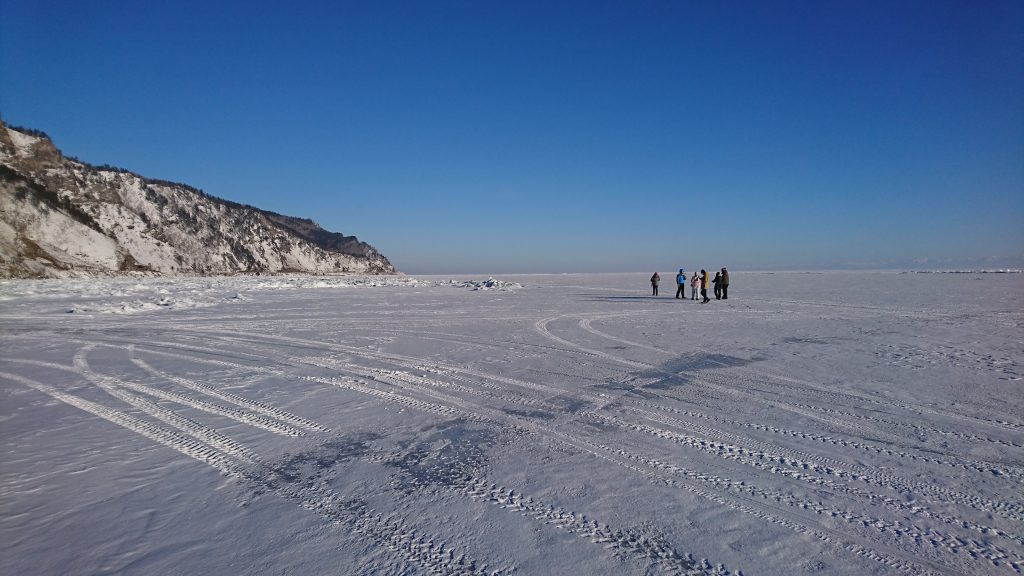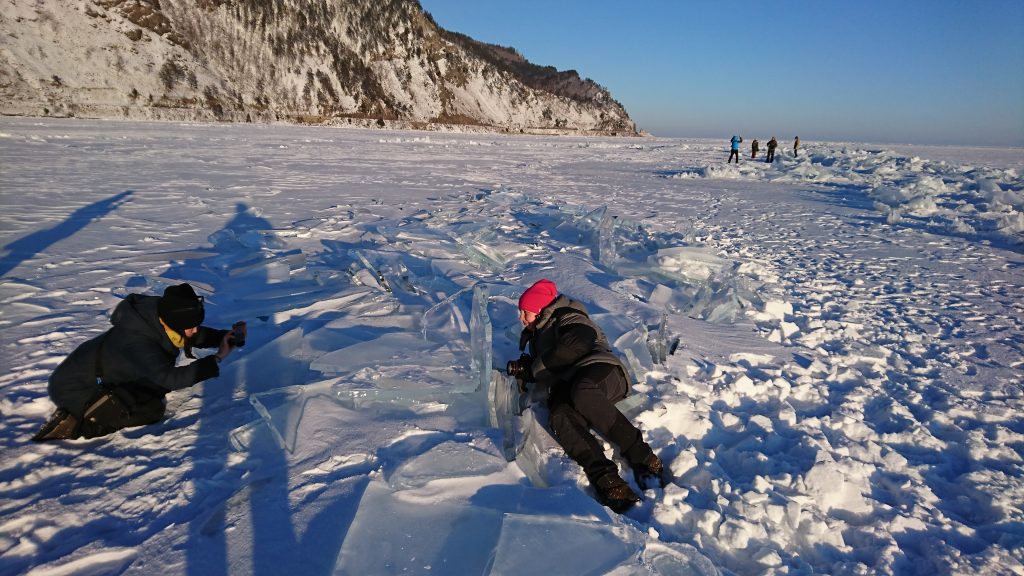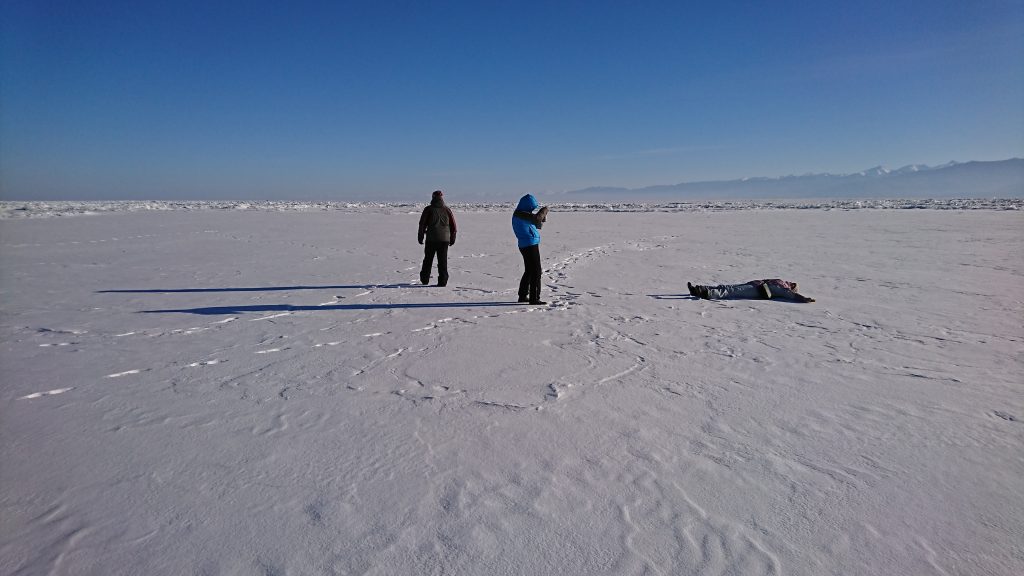 Whilst at Angasolka we worked on creating an eco-educational game with a Baikal and GBT theme. This was a nice way to kick-off our volunteer assignments and help get to know each other more.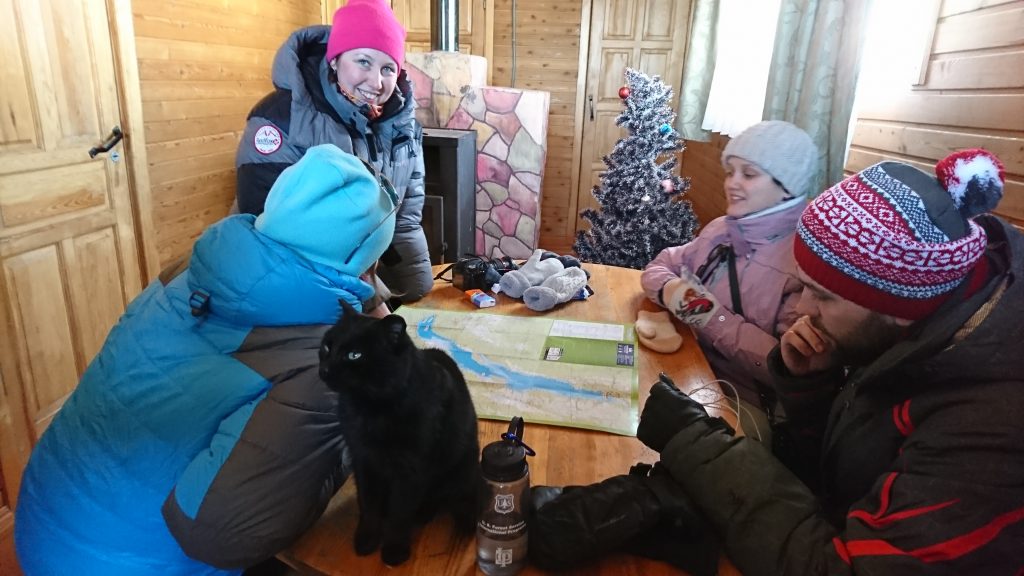 We learned about the Circum-Baikal railway and had the chance to walk along it and through a variety of tunnels. A passing service train and its crew was very kind in offering us a free ride and augmenting our Angasolka adventure.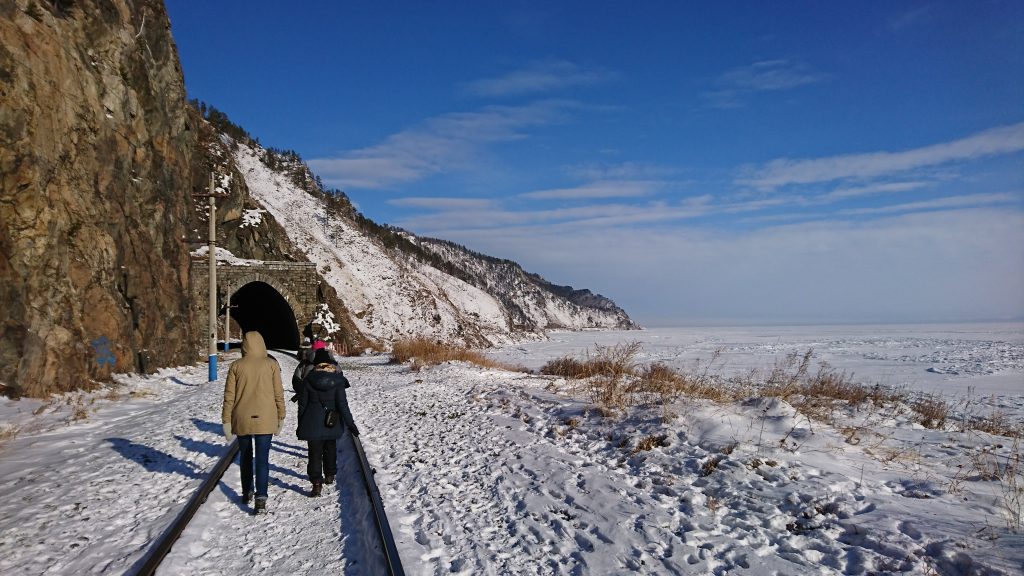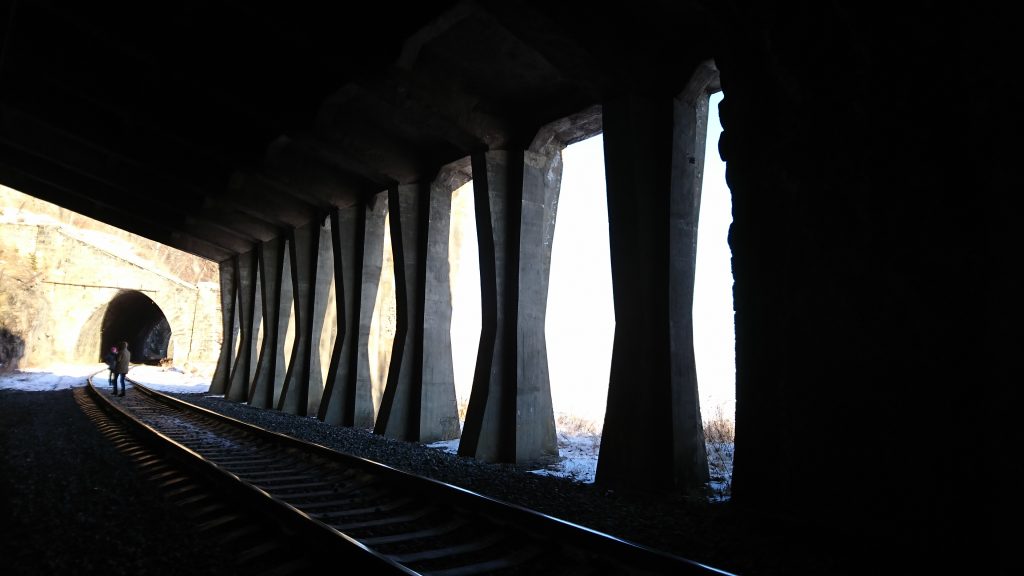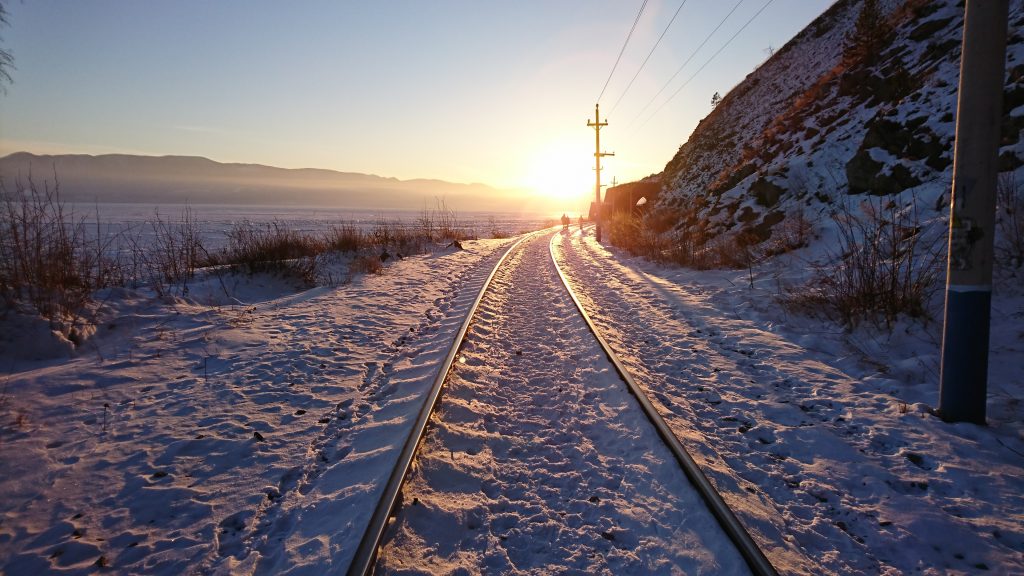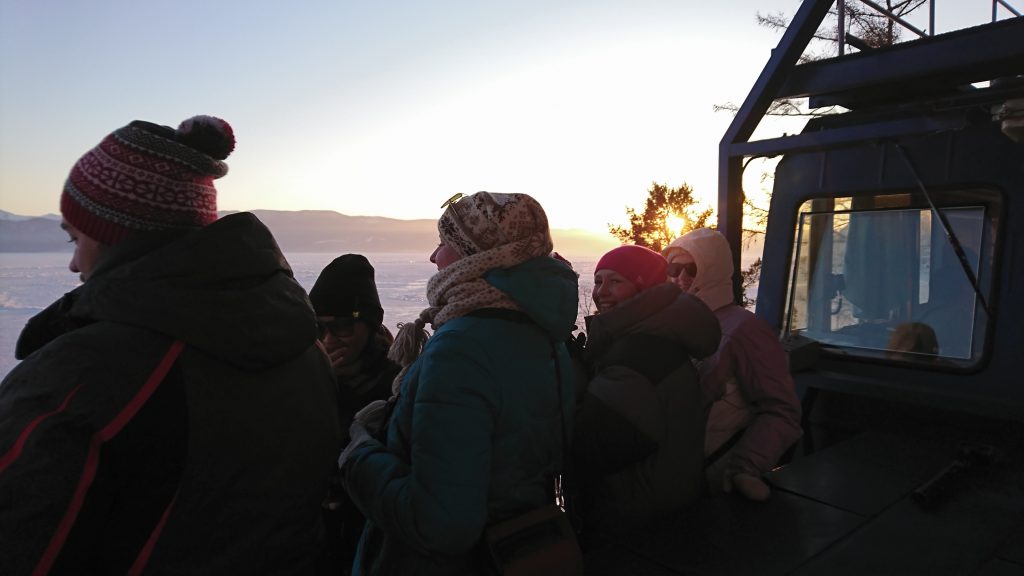 After our short stay in Angasolka we donned all our expedition gear, not forgetting the trusty little guitar of course, and started our trek along the Circum-Baikal railway anti-clockwise. New tunnels gradually revealed themselves to us as we trekked along the path drinking in the glorious views all around Baikal. We even had a trusty dog that decided to befriend us and accompany us on our trek to Kultuk.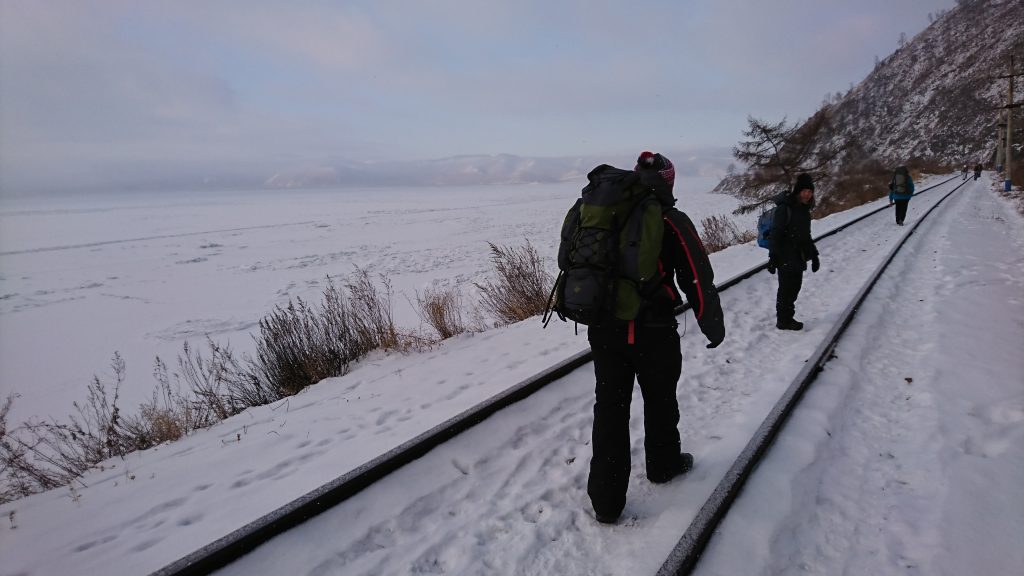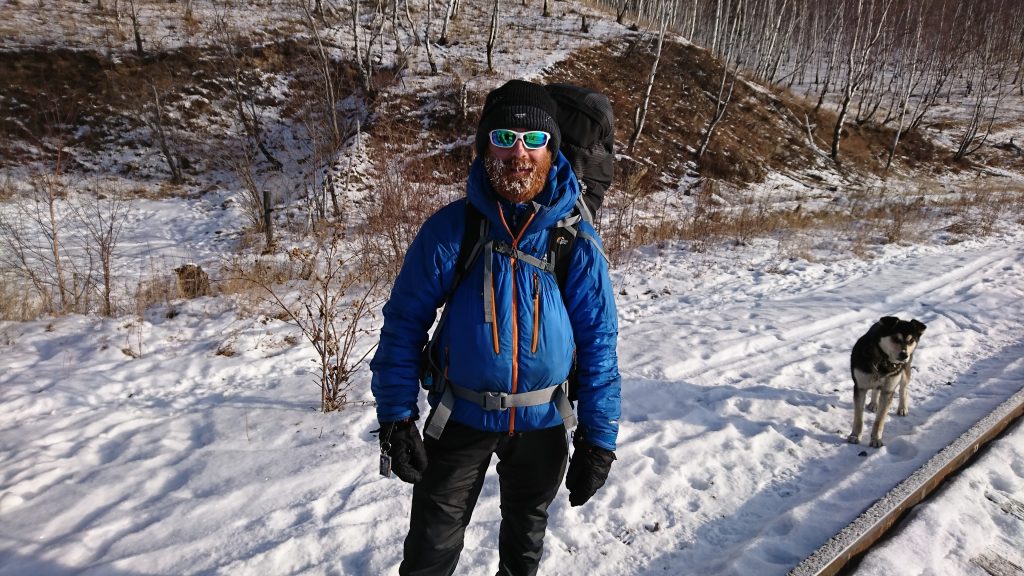 What lay in wait for us at Kultuk was an experience that I had certainly not anticipated. Shortly after arriving in Kultuk and taking a few minutes to rest and take some tea on board we were treated to a welcoming committee of the local administrative authorities. This welcoming committee included the one and only Ded Moroz! For anyone unfamiliar with this legendary figure you may know his equivalent in English-speaking cultures as Father Christmas. Ded Moroz and his helpers gave us a very warm welcome.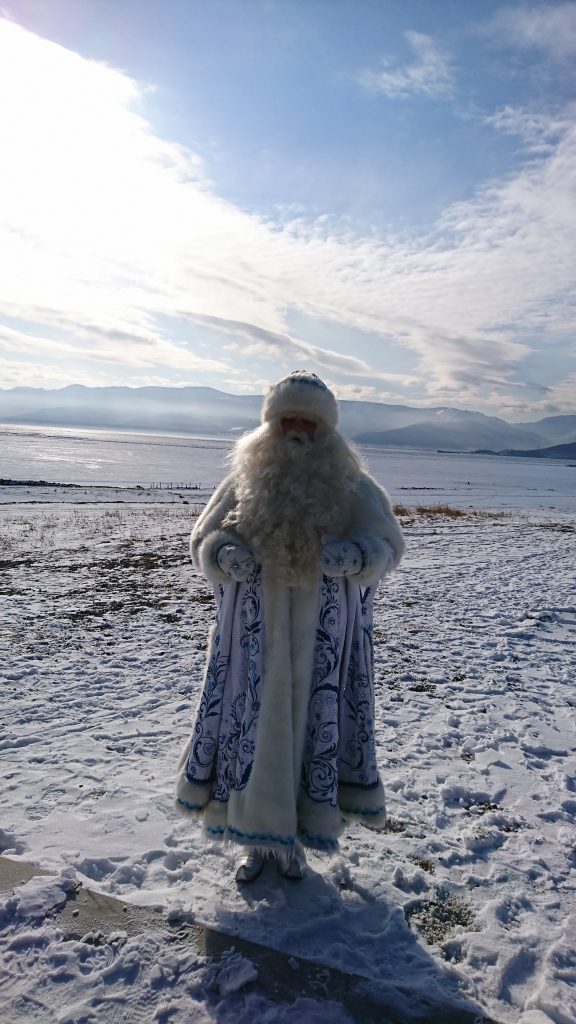 We were further treated by the nice people of Kultuk and Sludyanka to a bread and salt welcoming ceremony and, as ever, more chai (tea). Next we learnt about the history of the Great Tea Route that had passed through this area. We were solicited to give our thoughts on ideas for some basic tourist infrastructure to encourage travellers to stop, admire the fine views of Baikal, and learn about the history of the region.
Next we headed to the delightful village of Tankhoi on the South East flank of Baikal. This is where we were to spend the bulk of our project time and get stuck into some good old proper Siberian graft. The guest house run by this Baikal Reserve was to be our base for the rest of our project time.
A lot of snow had drifted around the walls of the guest house and our project crew set about shovelling snow away from the building to ensure that it didn't get engulfed in the encroaching Siberian snow.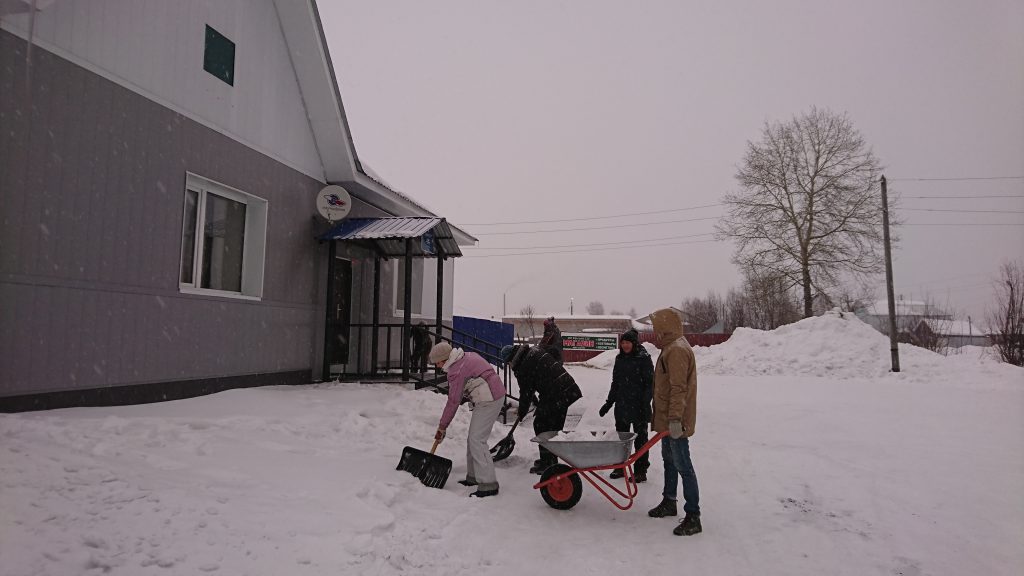 The Reserve staff were most welcoming to us and it was a pleasure to make their acquaintance. We learned about the Sacred Necklace of Baikal – a trekking challenge around the various Baikal Nature Reserves. Our input was garnered to help with the development of a Trekkers 'Passport' for people visiting these nature reserves. The 'passport' could be used to furnish visitors with information and guidance on the various locales around the lake. The passport/mini-guidebook  could also give visitors an opportunity to collect a series of place stamps to denote that they had trekked in a certain Baikal Reserve. The idea is to attract visitors whilst promoting ecological safeguarding of this gem of flora, fauna and geology.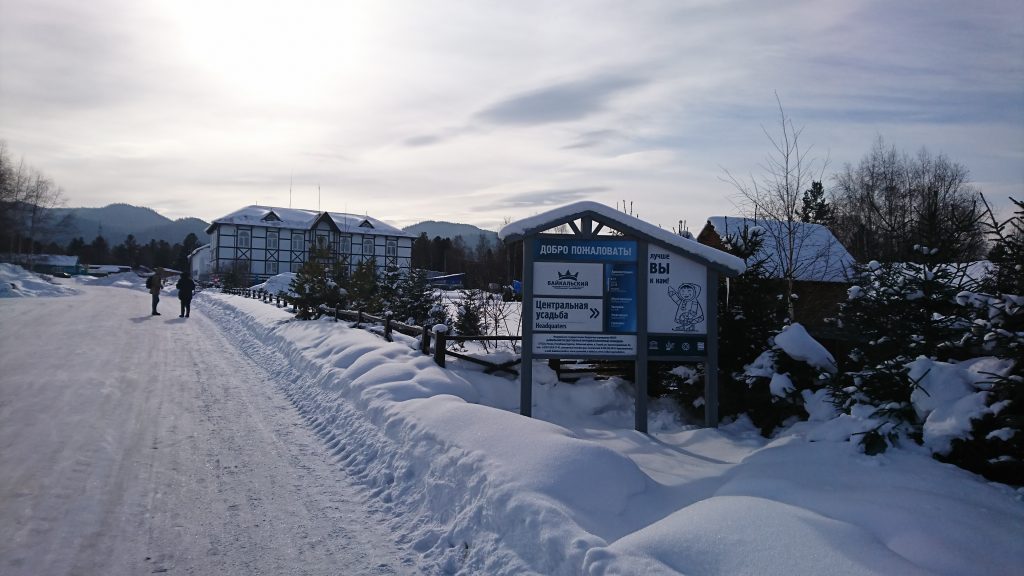 During GBT projects there are opportunities for volunteers to deliver informal presentations about their homelands. One evening Irma gave us very nice and informative presentation about The Netherlands. I take my hat off to Irma who despite being of retirement age was keen to get stuck into the physical graft of the project shovelling that seemingly never-ending Siberian natural resource: snow! Our team worked hard, efficiently and with healthy doses of humour as we shovelled to ensure that the guest house didn't get suffocated by snow.
One day we visited a local school and helped inspire the pupils about volunteering and about recycling. We each had a chance to deliver a short presentation about ourselves and our experiences with volunteering. Lena delivered a very engaging session on recycling for the kids to learn whilst playing too.
Two little nerpa (Baikal seal) mascots accompanied us throughout our project: Nina (special friend of Graeme) and Babrik (special friend of Lena). They thoroughly enjoyed the project and the company of the project team.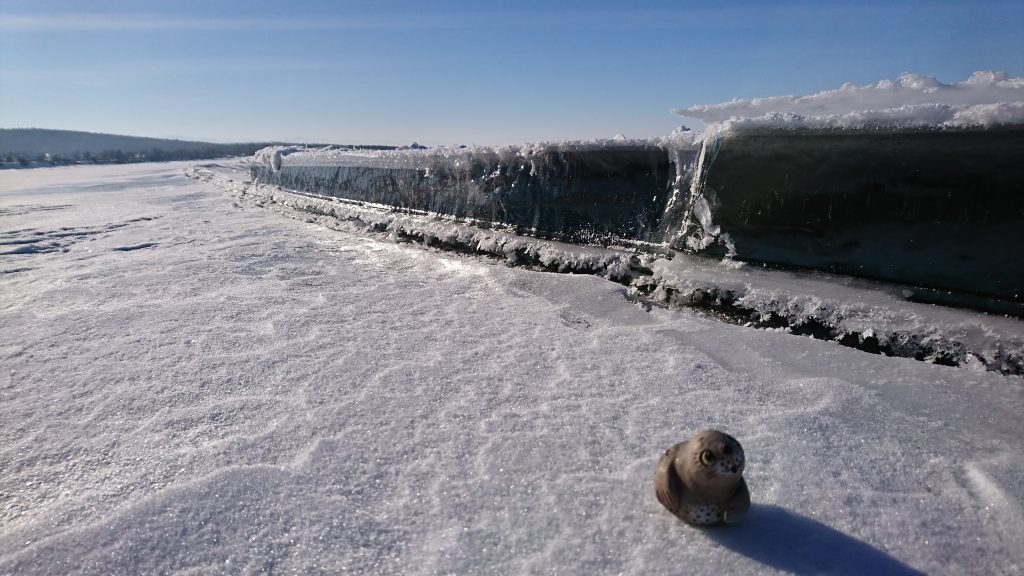 One of the highlights of the project was a visit to the new Visitor's Centre in Tankhoi right on the shore of Baikal. The centre has been designed with much care and attention and offers visitors a wonderful experience to learn much about Baikal, her history and the ecology of the region.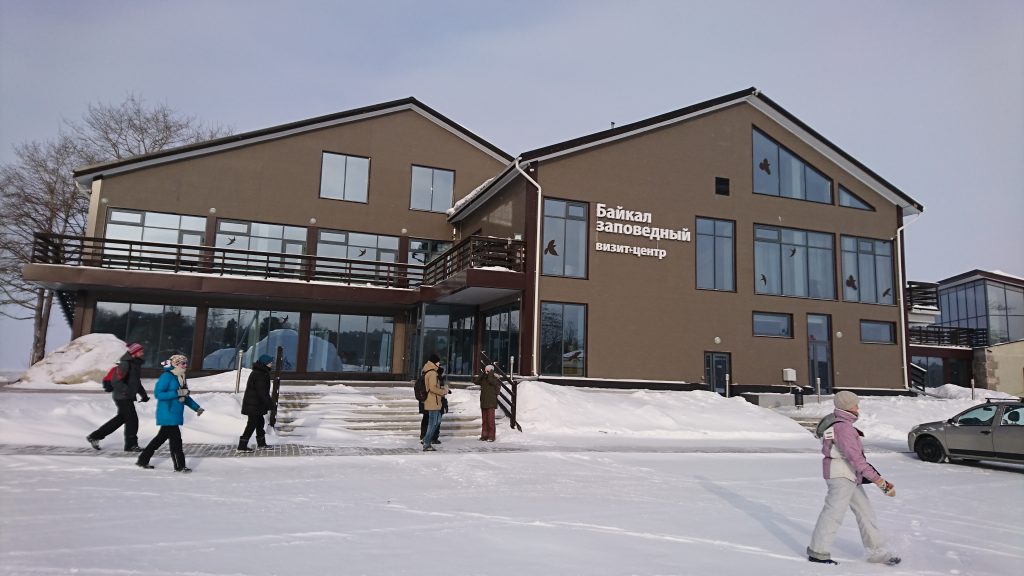 Our team were treated to a film viewing that enlightened us about the history of the Trans-Siberian railway in, around, and even over Baikal!
We are so grateful to the Reserve staff for their hospitality overall and for allowing us to get up close and personal with their pet sables 'Thunder' and 'Cloud'. These are delightful little creatures very similar to pine martens. We played with them in their pen as they enjoyed a feeding session.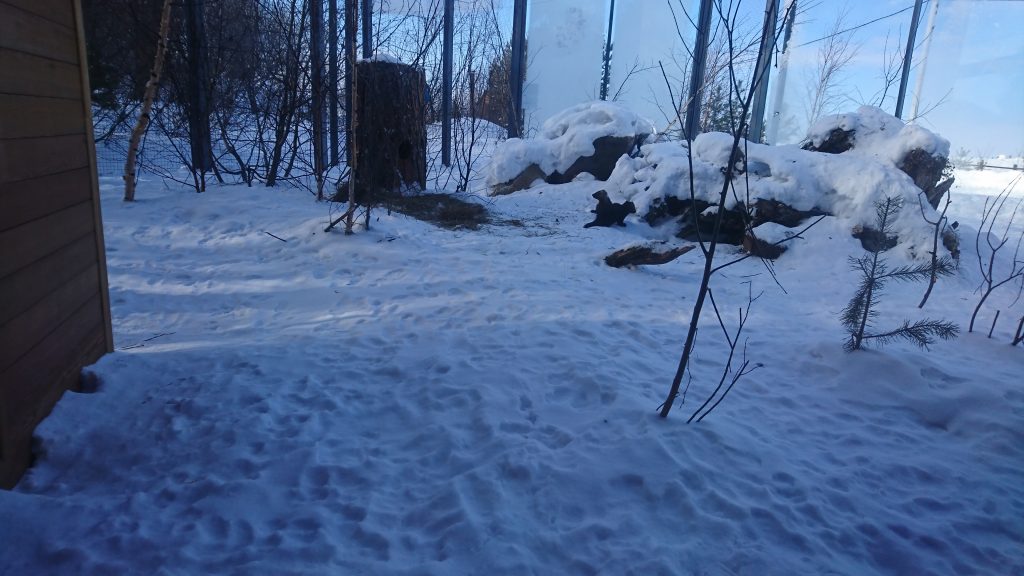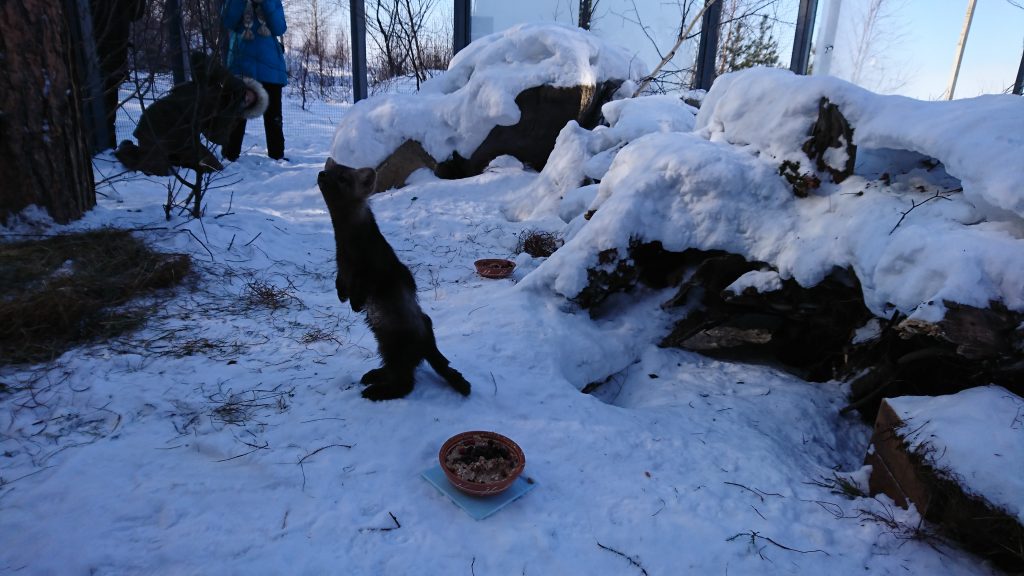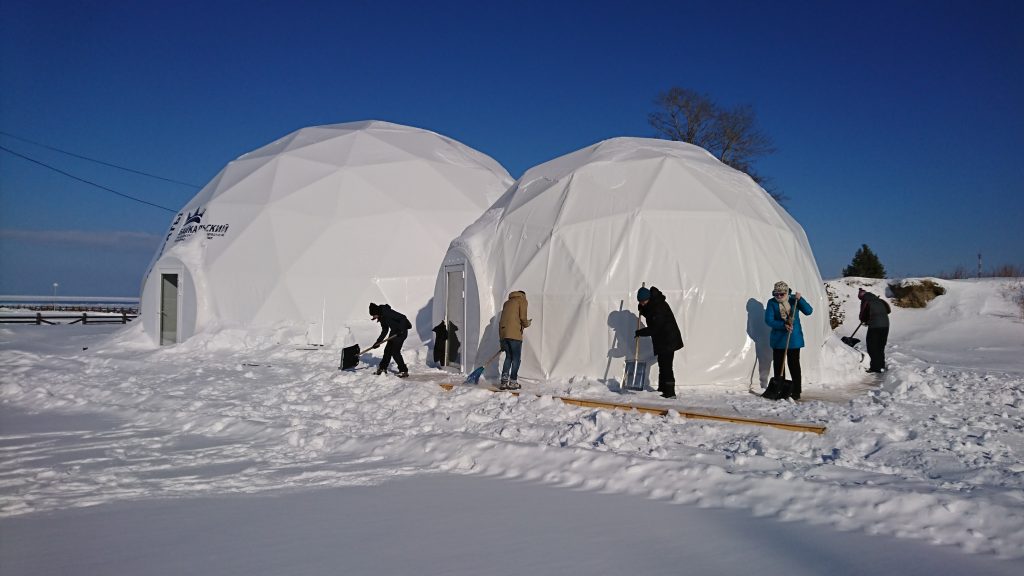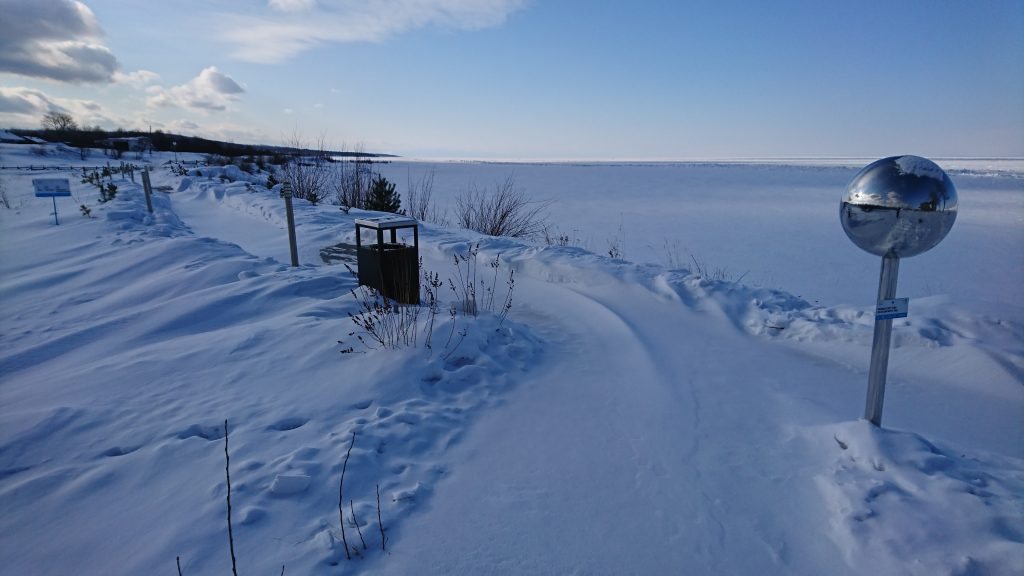 We visited the Tankhoi Reserve headquarters several times during our project. It was very interesting to visit the small museum there and learn a lot about the fauna of the area.
One day we had a chance to don hunter's skis and were guided around a GBT trail by Yuri, one of the reserve staff. The weather was wonderful and there were spectacular views for us to marvel in as we glided through glissening Siberian snow. The trail let us admire the mountains in the distance and revel in the winter wonderland of the forest.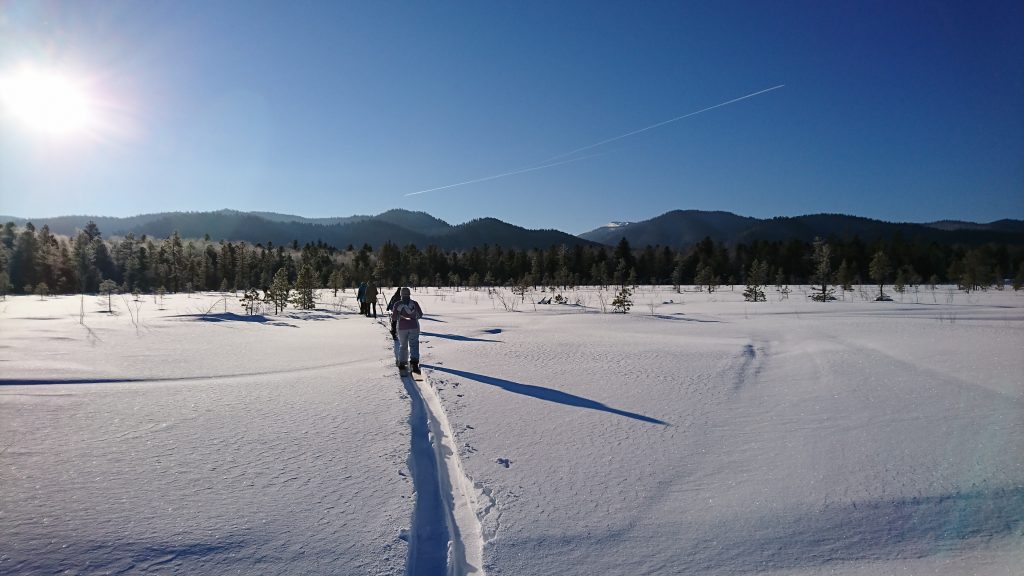 We also helped clear snow from one of the rest areas on the trail after being despatched to the scene by a snow-mobile. That was a most memorable commute.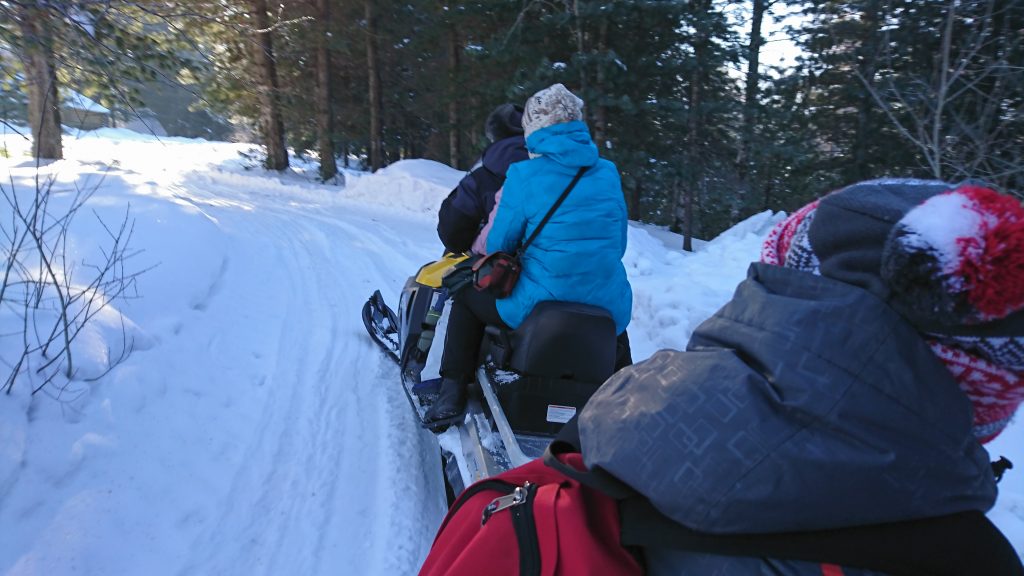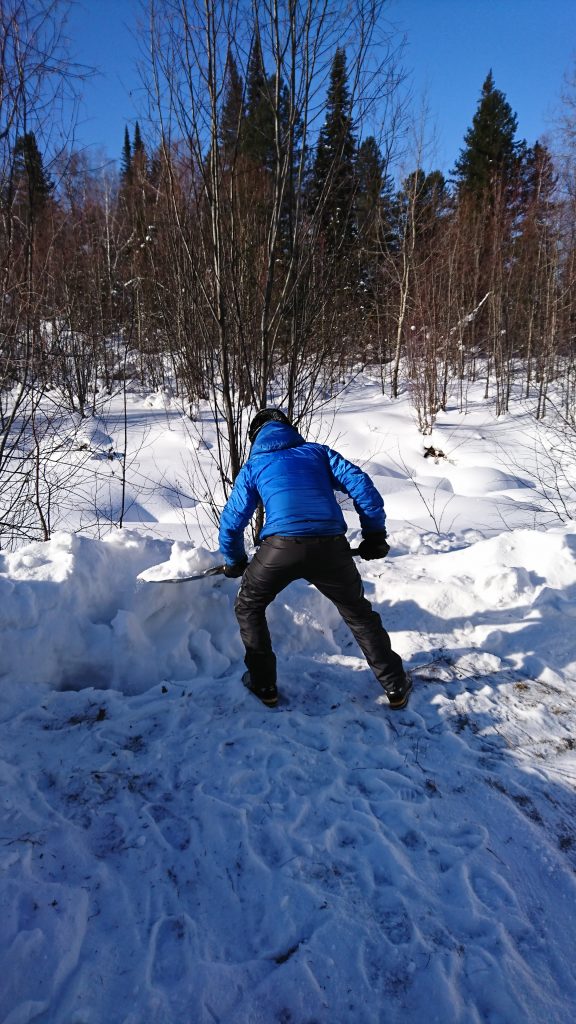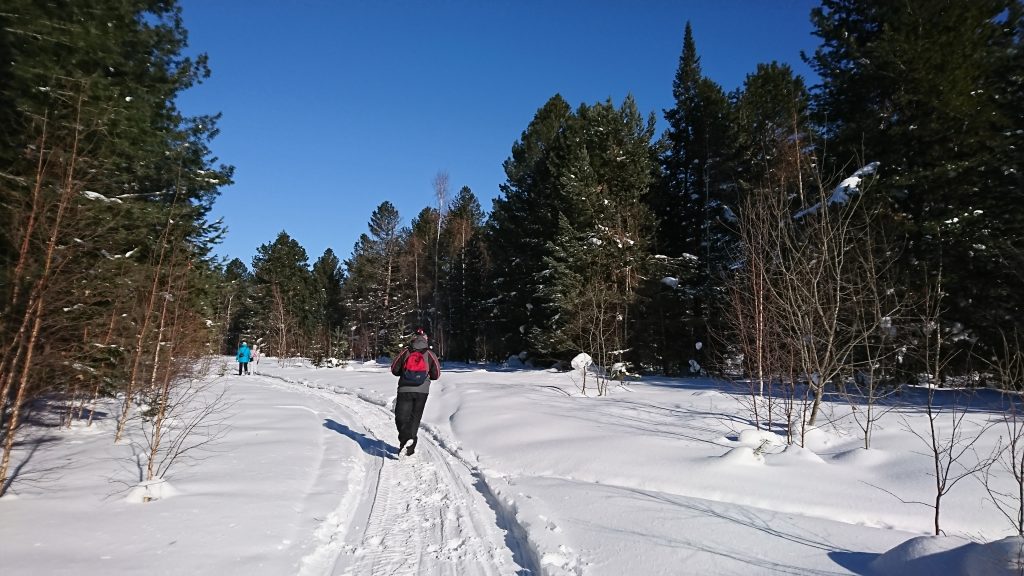 On the last night of the project the team learned how to prepare a traditional Buryat dish called buuzi – referred to often as posi also. It was enjoyable to learn about the customs and to prepare and eat some local traditional fare.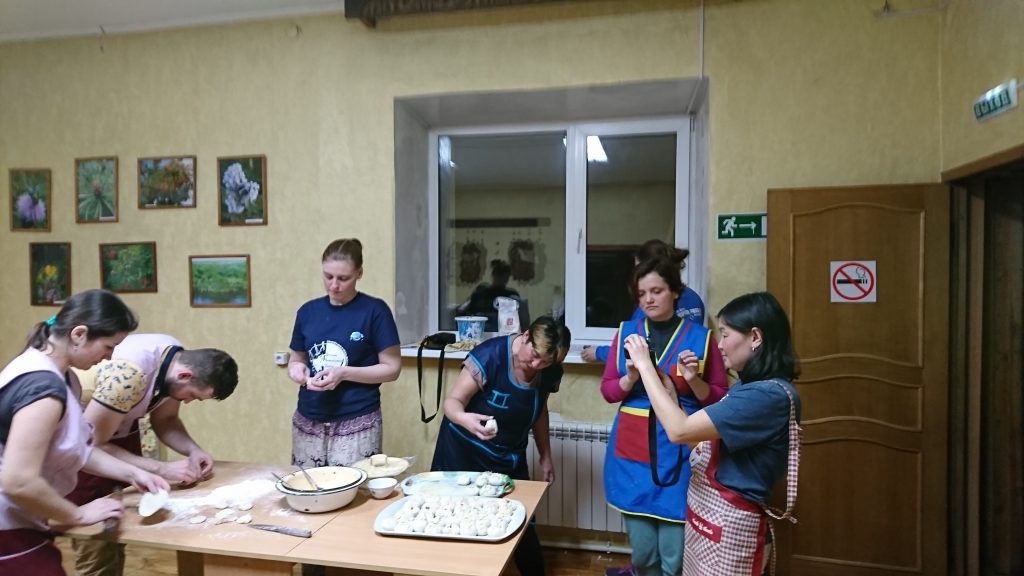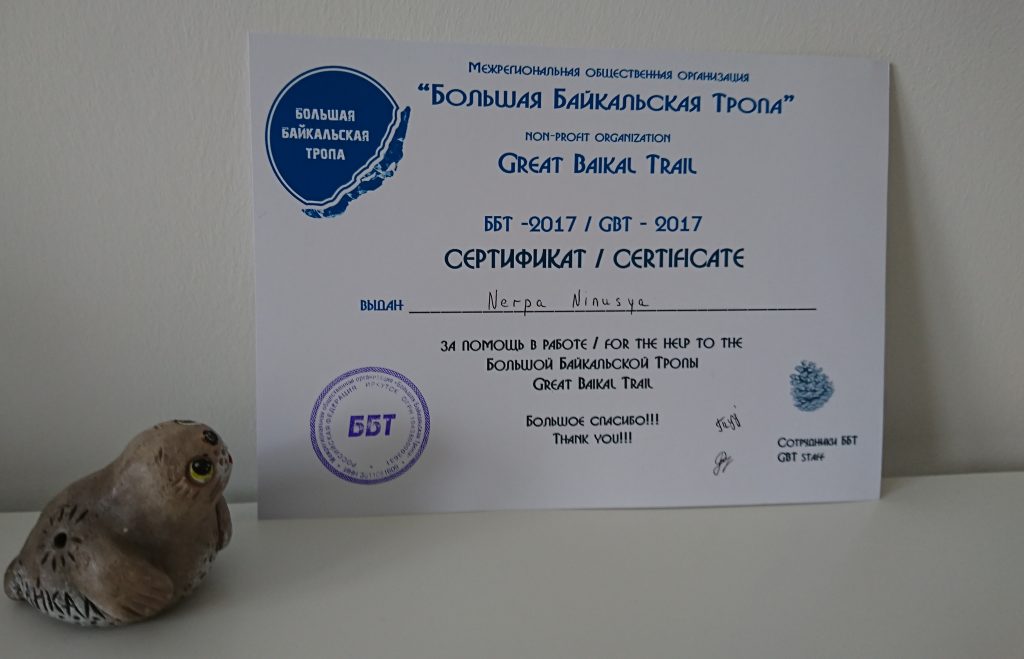 Many thanks to everyone who helped plan and support this project including the GBT office staff and volunteers. Special thanks to our crew leader, the one-and-only wonderful Natasha, and to Nadia for her wit as well as her crucial translations.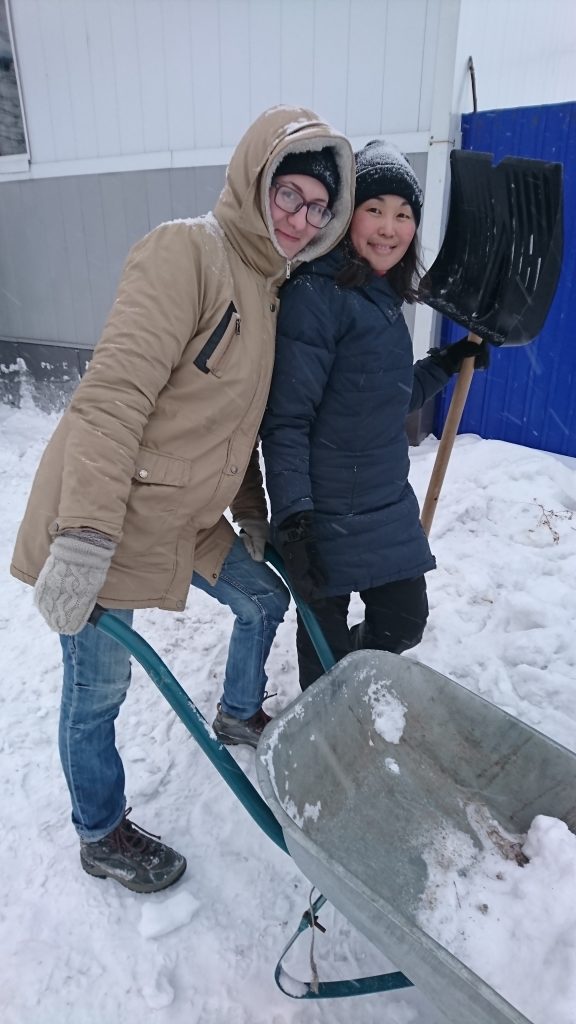 Finally, a big thank you to the rest of the crew for your camaraderie and our special time together volunteering in this magical part of this planet for this Baikal Pathways project. We had a lot of fun whilst vounteering.
For anyone considering visiting Baikal and volunteering with GBT don't think twice. I trust that your appetite is whetted and that the crystal-clear waters of Baikal will quench your thirst if you opt for a summer project or that the ice will entice you if you opt for a winter project.
May the gem of Baikal be safeguarded by the wonderful work of the GBT and Baikal Reserve staff along with the ongoing contributions of local and visiting volunteers.